Messaging Toolkit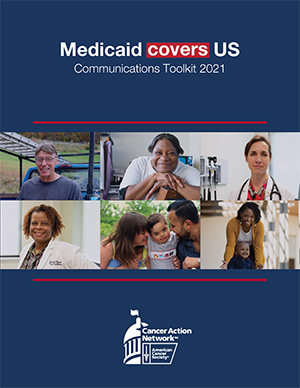 The resources in this toolkit are designed to help you join our effort to elevate the positive impact of Medicaid. Together, we can show the critical role Medicaid plays, not just for beneficiaries, but on communities and our nation.  Download the 2021 messaging toolkit.
Social Graphics

 
 
 
 
 
 
 
Previous Webinars
Health Disparities and State Budget Cuts: Making the Case for Medicaid

View the full webinar from our January 13th, 2021 virtual event about health disparities, the risk of state budget cuts in the coming year, how those can disproportionately affect people of color and the role that Medicaid can play in reducing health inequities. This webinar features health equity expert Dr. Thaddeus Bell, and Cortney Sanders and Jesse Cross-Call from the Center on Budget and Policy Priorities. You can also download the slides here.
Medicaid & COVID-19 Through the Health Equity Lens

View the full webinar from the October 13th, 2020 virtual event, featuring: Dr. Jamila Michener discussing the connection between racial disparities, COVID-19 and Medicaid; Dr. Alpa Patel sharing research from the American Cancer Society about the impact social determinants of health have on cancer patients; and Mike Perry sharing preliminary results from new messaging and polling research about race, health and the pandemic. You can download a PDF of the slides here.
Additional Resources
Medicaid Covers US Project Overview
This document provides an overview and answers to frequently asked questions about the Medicaid Covers US project.
Medicaid 101: Health Insurance for Low-Income Americans
This document provides and introduction and overview of Medicaid.
Medicaid Covers US Polling Memo
In April 2019, ACS CAN released polling data demonstrating that there is strong support for the Medicaid program. Included in this memo are the key findings from this research.
Medicaid: Ensuring Access to Affordable Health Care Coverage for Lower Income Cancer Patients and Survivors
Policy Resources