Early detection of cancer saves lives. Screening can help detect prostate cancer at an early stage often before any signs and symptoms which are associated with more advanced disease. Prostate cancer survival rates increase when it is detected early.
However, when it comes to prostate cancer, major racial disparities exist.
Improving outcomes for Black individuals by addressing root causes of prostate cancer disparities is key to improving the disproportionate burden of prostate cancer on Black individuals in the US. We are working to ensure Congress addresses these disparities by supporting legislation to remove cost-sharing of screening for those at the highest risk of being diagnosed with prostate cancer – African Americans and those with a family history of prostate cancer. We will continue to partner with other organizations and advocates at the state level to remove cost-sharing as a barrier for individuals looking to undergo prostate cancer screenings.
Prostate Cancer Disparities
 

2.1x higher likelihood of death in Black men versus White men

70% higher incidence rate in Black men than White men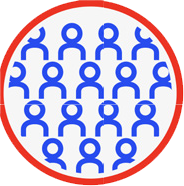 Leading cancer type for Black men, accounting for 37% of all new cases, 2022 estimates for US Black men:
New cases: 41,600
Deaths: 6,040

Black men more likely to receive substandard treatment than White men; when similar 10-year survival is comparable or higher