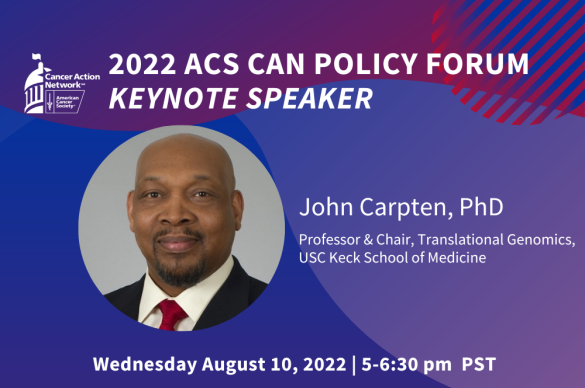 Research to Reality: Dismantling Disparities in Cancer Care
Wednesday, August 10, 2022 -

5:00pm

to

6:30pm
PST
***Pre-Registration has now closed. You may register day of the event at acscan.windrosemedia.com.***
2022 California Research and Health Equity Policy Forum  
The American Cancer Society Cancer Action Network (ACS CAN) is the nation's leading advocacy organization working every day to make issues facing cancer patients a national and state priority.
Advancing Research, Innovation and Health Equity


Join us for the
ACS CAN California Research & Health Equity Forum
, held virtually on August 10th, which will focus on challenges faced by communities of color and medically underserved cancer patients and survivors. The forum will highlight how practitioners, healthcare systems and the private sector are rising to the challenge to address many of these disparities, and how public policies can ensure that advances in care are accessible for all communities. 
Program includes: 
Research to Reality: Dismantling Disparities in Cancer Care will feature Keynote Speaker John D. Carpten, PhD, a world-renowned geneticist and cancer researcher who brings an intense focus and understanding of the role of biology in disparate cancer incidence and mortality rates among underrepresented populations.  
Following the keynote speaker there will be a lively discussion with California's experts in research and cancer care as they highlight innovative approaches to addressing disparities. 
Moderator: Robert Winn, MD, VCU Massey Cancer Center

Panelists: 
Gladys Arias, Policy Principal  for Health Equity, ACS CAN

Maria Garcia-Jimenez, MD, MHS, UCLA Health 

Gillian Gresham, PhD, Cedars-Sinai Cancer 

Elena Martinez, PhD, MPH, UC San Diego Moores Cancer Center

Ways to Support ACS CAN's Impact
We invite you to be part of a group of sustaining supporters enabling ACS CAN's work to catalyze discovery, accelerate cures, and improve health equity. With your help, our advocacy will not stop. Join us and together we can save lives and lead the fight for a world without cancer.
To learn more about Event Sponsorship or Corporate Membership Opportunities Click here

To make an Individual Donation Click here

To learn about the California Leadership Council Click here
For more information about Event Sponsorship, the California Leadership Council or Corporate Membership, please contact Lynda Barbour at (619) 742-4861 or

[email protected]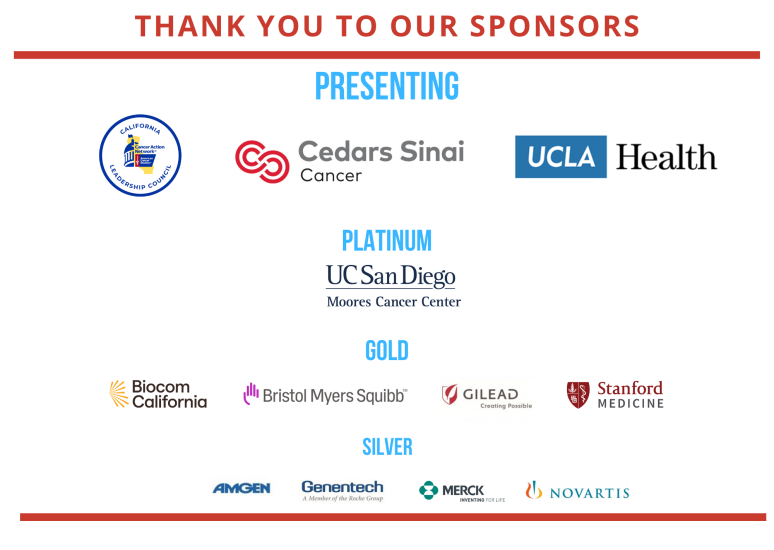 Contributions or membership payments to the American Cancer Society Cancer Action Network, Inc. are not tax deductible.