Oklahomans Receive High Honors for Outstanding Efforts in Cancer Advocacy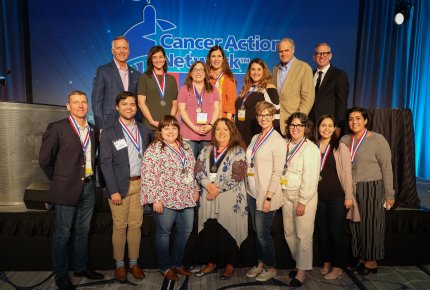 WASHINGTON, D.C. – A team of advocates and staff in Oklahoma was recognized for their dedication and exceptional work in cancer advocacy by the American Cancer Society Cancer Action Network (ACS CAN). ACS CAN, the advocacy affiliate of the American Cancer Society, presents the State Advocacy Team of the Year award annually to staff and volunteer teams that have worked together to make a significant impression in cancer-related public policy.
"We are honored to recognize the Oklahoma advocacy team and Ambassador Constituent Team! Lead Ashley Watts for their work to make cancer public policy a priority in their state and across the country," said Chris Hansen, president of ACS CAN. "This team is a remarkable example of what can be accomplished when we work together to improve public health and impact the cancer burden. As a result of their tireless efforts, Oklahoma is gaining momentum in the fight against this terrible disease."
Ashley Watts is currently in her second year as an ACS CAN volunteer and OK Congressional District 5 ACT! Lead. During her first year, she led the fight to prohibit all indoor tanning devices from children under 18 in Oklahoma, personifying dignity and grace under pressure as she shared her sister Maddie's story. In her freshman year of college, Maddie passed away from melanoma. Watts mobilized her friends, family and co-workers at Stephenson Cancer Center to pass this important legislation.
Oklahoma's advocacy team helped pass a meaningful, life-saving cigarette tax — an impressive feat considering the Legislature had not increased any taxes in the last 28 years. The team prevailed after building a strong and effective network in support of a significant tax increase, securing a $1-per-pack cigarette tax increase and eliminating the "little cigar" taxation loophole that would include a tax on cigars.
ACS CAN Oklahoma also blocked legislation that would have cut funding by $29.7 million dollars for prevention and cessation programs along with cancer research, and healthy eating & active living programs. Their success was made possible by the team's extraordinary coalition-building, lobbying, grassroots and media support, and the cigarette tax increase will prevent more than 17,000 youth from smoking, help more than 18,000 adults to quit smoking, and save more than 10,000 lives.
The award was presented to the team Sept. 23 in Washington, D.C., as part of the annual ACS CAN Leadership Summit and Lobby Day. Nearly 700 cancer patients, survivors and their loved ones traveled to the nation's capital to meet with their elected officials and urge them to make cancer a national priority.
More Press Releases About
Senior Specialist, Division Media Advocacy