Barriers to Patient Enrollment in Therapeutic Clinical Trials for Cancer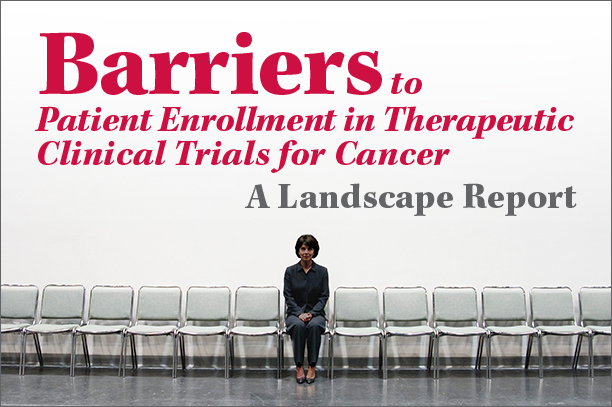 The objective of cancer research is to generate new knowledge that can be used to improve survival and quality of life for patients with cancer. Clinical trials are the key step in advancing potential new cancer treatments from the research setting to the cancer care clinic, and patient participation in trials is crucial to this success. Most patients express a willingness to participate in clinical research, yet only a small fraction ultimately end up enrolling in a cancer clinical trial due to barriers that make participation difficult or even impossible. Consequently, approximately 20% of cancer clinical trials fail due to insufficient patient enrollment. Understanding and addressing these barriers is critical to accelerating progress in cancer research.
The numerous barriers that keep patients from enrolling in clinical trials have been well researched but often addressed in isolation from other barriers. The landscape report attempts to bring all the relevant evidence together in one place, synthesizing the relationships of barriers to each other and scaling each barrier's contribution to the problem as a whole. This report is meant to serve as a resource to inform discussions and actions aimed at addressing the barriers preventing patient participation in cancer clinical trials.
Based on the research contained in the landscape report, a set of 23 consensus recommendations were developed for reducing the barriers identified in the landscape report. The recommendations are grouped by category, and require both programmatic activities and policy changes to be realized. The summary recommendations are listed below. For additional context and details, please refer to our downloadable recommendations.
Figures
Tables