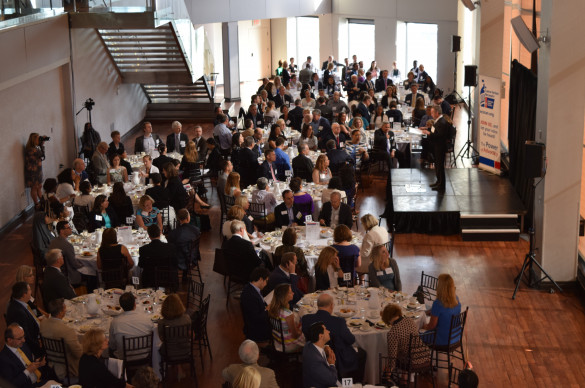 15th Annual ACS CAN Research and Health Equity Breakfast
Friday, October 14, 2022 -

7:30am

to

9:30am
Boston Marriott Cambridge
 Become an Event Sponsor    Make an Individual Leadership Gift   Purchase A Ticket
The American Cancer Society Cancer Action Network (ACS CAN) is the nation's leading advocacy organization working every day to make issues facing cancer patients a national and state priority. 
Advancing Research, Innovation and Health Equity
1 in 2 men
and
1 in 3 women
in the United States will be diagnosed with cancer in their lifetime.
As cancer prevention, early detection technology, targeted and immuno-therapies advance, we must also advance health equity so that all people have a fair and just opportunity to live longer, healthier lives free from cancer.
Join us for the 15th Annual ACS CAN Research & Health Equity Breakfast on October 14th from 7:30-9:30am at the Boston Marriott Cambridge in Kendall Square, where we convene leaders from life sciences, health care, government, academia, and businesses to network and discuss how we can work together to accelerate research and innovation, and advance health equity across the country.
If you are unable to attend the event in person, you can register to receive the virtual livestream link at: https://www.fightcancer.org/newenglandvirtual
Confirmed speakers: 
 Keynote
 Dr. Lola Fashoyin-Aje, Deputy Division Director & Associate Director, Science & Policy to Address Disparities,   Oncology Center of Excellence, Food and Drug Administration.

 Honoree
 Robert Tepper, Co-Founder and Partner, Third Rock Ventures
Leadership Panel on Health Equity:
Dr. Karen Freund, Tufts Medical Center
Dr. Sandhya Rao, Blue Cross Blue Shield of Massachusetts
Bob Coughlin, JLL (moderator)
Finally, the forum includes networking for attendees to meet colleagues, speakers, and hear from American Cancer Society funded researchers.
Ways to Support ACS CAN's Impact
We invite you to be part of a group of sustaining supporters enabling ACS CAN's work to catalyze discovery, accelerate cures, and improve health equity. With your help, our advocacy will not stop. Join us and together we can save lives and lead the fight for a world without cancer.
To learn more about Event Sponsorship, Individual Leadership Gifts, or Corporate Membership Opportunities Click here

To secure an Event Sponsorship Click here

To make an Individual Leadership Gift Click here
For more information about Event Sponsorship, Individual Leadership Gifts or Corporate Membership, please contact Shalini Vallabhan at 617-955-7572 or at

[email protected]
To learn more about ACS CAN's mission and impact to accelerate cures, improve access to care and save more lives from cancer, please contact Shalini Vallabhan, Managing Director, Government Relations at

[email protected]

or by phone 617-955-7572.
Thank You To Our Sponsors

2022 ACS CAN Volunteer Council