San Francisco ACS CAN Advocate Honored at Cancer Action Day at the Capitol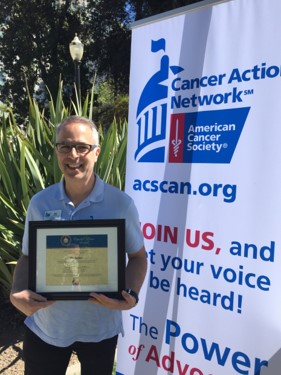 SACRAMENTO -  Calif. -  Long-time San Francisco volunteer cancer control advocate Bob Gordon received the highly coveted Capitol Dome
Award during this year's 2019 Cancer Action Day at the Capitol on April 9, 2019. Presented by the American Cancer Society Cancer Action Network (ACS CAN) on the grounds of the State Capitol in Sacramento, the prestigious award places Gordon in the top tier of cancer advocacy leaders in the nation. Gordon is a volunteer legislative ambassador with ACS CAN in addition to being co-chair of the San Francisco Tobacco Free Coalition and project director for the California LGBT Tobacco Education Partnership.
Gordon has been pivotal in raising awareness regarding the role flavored tobacco is playing in hooking members of the LGBT community, especially youth, into a potential lethal addiction to tobacco. Ending the sale of flavored tobacco products is an issue of both health and social justice. Young people who smoke flavored tobacco, especially menthol cigarettes, are disproportionately LGBT, African American, Asian American and from low-income communities already significantly impacted by tobacco-related disease.
The Centers for Disease Control and Prevention (CDC) released new data in February showing overall tobacco use among teens has risen 36% since 2017, driven largely by soaring use of e-cigarettes. The study shows e-cigarette use among high schoolers jumped a whopping 78% in the last year and research already showed 80% of tobacco users started with a flavored product.
Most flavored cigarettes were taken off the market by the U.S. Food and Drug Administration in 2009, but the federal restrictions did not include menthol-flavored cigarettes, nor did the flavoring restrictions apply to all tobacco products including e-cigarettes, which the U.S. Surgeon General calls an "epidemic" among youth.
"Many local elected officials and state lawmakers have been moved by Bob's passion regarding cancer-fighting health policy, especially tobacco-control policies that can directly impact the health of communities," said ACS CAN California Managing Director Jim Knox. "He is a champion for keeping tobacco out of the hands of youth, LBGTQ youth in particular, because he knows that tobacco use that starts when a person is young can lead to a lifetime battle against addiction."
Knox went on to say that ACS CAN is grateful for Gordon's contributions and will always draw inspiration from his tireless public health advocacy.
The American Cancer Society Cancer Action Network (ACS CAN) is making cancer a top priority for public officials and candidates at the federal, state and local levels. ACS CAN empowers advocates across the country to make their voices heard and influence evidence-based public policy change as well as legislative and regulatory solutions that will reduce the cancer burden. As the American Cancer Society's nonprofit, nonpartisan advocacy affiliate, ACS CAN is critical to the fight for a world without cancer. For more information, visit www.fightcancer.org.
More Press Releases About
Director, Region Media Advocacy