Governor Pierluisi Signs Legislative Amendment to Help Make Prescription Drugs More Affordable For Cancer Patients and Others with Chronic Diseases
The change to the Health Insurance Code of Puerto Rico removes restrictions that undermine the purpose of copay assistance
San Juan, Puerto Rico – The American Cancer Society Cancer Action Network (ACS CAN) applauds Governor Pedro Pierluisi for signing an amendment to the Health Insurance Code of Puerto Rico to help make prescription drugs more affordable for cancer patients and others with chronic diseases. The official announcement was made on Sunday, September 3.
Prescription drug copay assistance is critical to maintaining the affordability of some drugs. However, insurance companies have been implementing limitations -- known as copay accumulator adjustments -- that allow policyholders to use financial assistance, but without counting the assistance toward cost-sharing requirements, like their deductible or out-of-pocket maximum.
The following is a statement from María Cristy, Vice President of Patient Services, Cancer Control and Public Policy of the American Cancer Society of Puerto Rico:
"Copay accumulator adjusters expose patients, especially those with high deductibles, to possibly having to stop or delay taking the medication they need due to cost, and therefore could face health complications and disease progression, driving significantly higher costs for both the patient and the health care system.
"This change is a great victory for cancer patients in Puerto Rico because it helps protect prescription drug copay assistance intended for patients.
"We are deeply grateful to Governor Pierluisi and the Legislative Assembly, particularly Senators Aponte Dalmau, Soto Rivera, Zaragoza and Vargas Vidot, as well as Representative Márquez Lebrón, for demonstrating their commitment to protecting cancer patients and their families. ACS CAN urges them to continue promoting public health policies that help us advance our mission to end cancer as we know it, for all."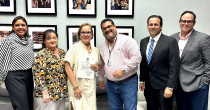 More Press Releases About