Assemblymember Monique Limón Receives Legislator of the Year Award
Legislator of the Year Award Bestowed by the American Cancer Society Cancer Action Network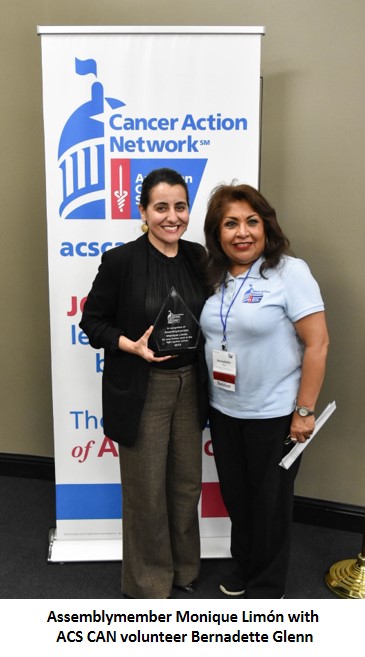 SACRAMENTO, Calif. –  Assemblymember Monique Limón has been named Legislator of the Year, a prestigious honor bestowed by the American Cancer Society Cancer Action Network (ACS CAN) in recognition of her work championing legislation that will keep oral oncology medications affordable for cancer patients.
Assembly Bill 1860, signed into law last year, gives permanent and affordable access to oral chemotherapy drugs that improve the quality of life for those facing cancer. Passage of the law ensures cancer patients will not be charged by health insurers or health plans more than $250 per prescription for orally administered anti-cancer medication.
"Assemblymember Limón is a fierce advocate for improving the quality of life for cancer patients in California," said Jim Knox, managing director, ACS CAN California. "Her legislation, now law, makes it affordable for cancer patients to take oral chemotherapy, and makes it easier for patients to maintain more of the daily routine they held before their cancer diagnosis. It also reduces the financial impact that can result with intravenous chemotherapy, which is provided in a clinical setting."
ACS CAN California, the advocacy affiliate of the American Cancer Society, selects a legislator each year who has demonstrated leadership and commitment in cancer-related public policy advocacy. The award was presented Tuesday, April 9, 2019, at ACS CAN's 2019 California's Legislative Reception, which followed its Cancer Action Day at the Capitol. 
ACS CAN gives people impacted by cancer a powerful voice by holding an annual Cancer Action Day to fight for legislation that will reduce the devastation caused by cancer in California. Nearly 180,000 new cases of cancer are expected this year in California. Sadly, more than 60,000 of the state's residents will die from the disease. 
Other legislative honorees at this year's ACS CAN California's Legislative Reception included eight new lawmakers who have a taken a public stance against Big Tobacco by saying no to political contributions from tobacco companies:
Senator Anna Caballero                                                Assemblymember Luz Rivas
Assemblymember Buffy Wicks                                     Assemblymember Rebecca Bauer-Kahan
Assemblymember Cristy Smith                                     Assemblymember Jesse Gabriel
Assemblymember Wedny Carrillo                                 Assemblymember Boerner-Horvath
About ACS CAN
The American Cancer Society Cancer Action Network (ACS CAN) is making cancer a top priority for public officials and candidates at the federal, state and local levels. ACS CAN empowers advocates across the country to make their voices heard and influence evidence-based public policy change as well as legislative and regulatory solutions that will reduce the cancer burden. As the American Cancer Society's nonprofit, nonpartisan advocacy affiliate, ACS CAN is critical to the fight for a world without cancer. For more information, visit http://www.fightcancer.org.
More Press Releases About