High Deductible Health Plans Cause Extreme Spikes in Cost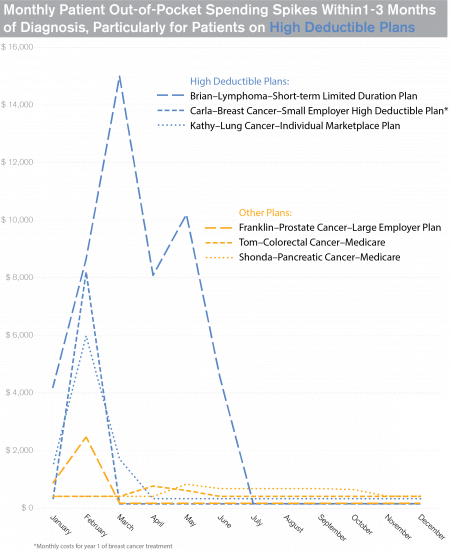 The Problem
Most patients experience spikes in their health care costs around the time of a cancer diagnosis as they pay their deductible and out-of-pocket maximum. For patients on high deductible plans, this spike can mean bills due for several thousands of dollars within one month. High deductibles often cause individuals to delay or forego care due to cost, which means it may take longer to get a cancer diagnosis and begin life-saving care. And the number of people enrolling in high deductible plans is on the rise. 
ACS CAN Fights for Solutions
ACS CAN is concerned about increasing enrollment in high deductible health plans, and how this affects cancer care. ACS CAN supports policies that increase enrollment assistance services to help people understand insurance plans and how much they will have to pay up-front for care. ACS CAN also supports policies to ensure certain health care services are available for free or low cost so that patients don't delay or forego important prevention and early detection services. 
Read more about the costs of cancer care, high deductible health plans, and policy solutions to keep costs down.