One family's journey through childhood cancer and advocacy
"It feels good to do good."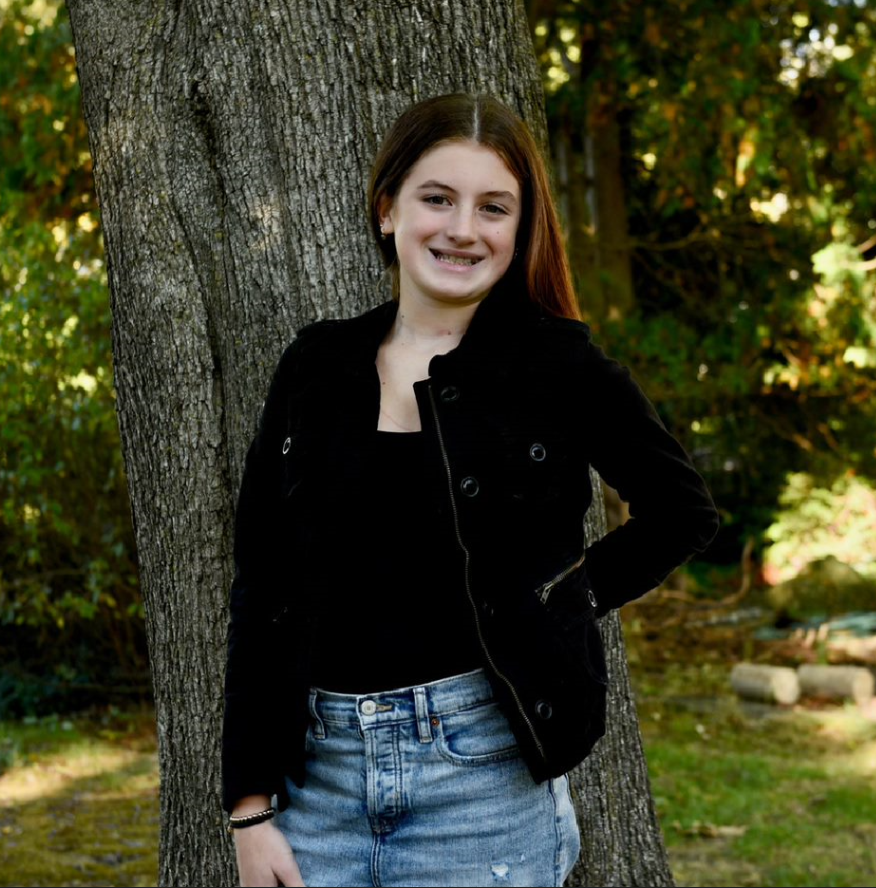 In late April, more than 200 cancer patients, survivors, and family members met with their members of Congress in Washington, D.C. to urge lawmakers to fund childhood cancer programs. 
For Aubrey, her husband Dan, and their 14-year-old daughter Grace, these issues are deeply personal.
Grace was diagnosed with a brain tumor in 2018, when she was just nine years old. For the six months of Grace's treatment, the family lived in uncertainty, not knowing what would happen to their daughter. Grace has now been cancer-free for five years.
We spoke to this family about their experience navigating Grace's cancer diagnosis and their advocacy work as a result. Dan and Grace joined other ACS CAN volunteers in meeting with lawmakers in Washington, DC for the Alliance for Childhood Cancer Action Days.
What was your experience before Grace's diagnosis and through her time in treatment?
Grace remembers that she didn't have any of the typical symptoms associated with a brain tumor, such as vision impairment or reduced motor skills. For about two years before she was diagnosed, she had an unusual thirst and was always drinking water. Then, in third grade, she essentially stopped growing. This was weird, as she had always been one of the tallest people in her class. This lack of typical symptoms made it hard for doctors to diagnose her right away.
From Aubrey and Dan's point of view, Grace was a typical, active kid. Besides drinking water heavily and the slowdown in growth, there were few other symptoms that hinted that something was wrong. Most of Grace's other symptoms could be explained away as less-serious issues. They give credit to Grace's endocrinologist who played a huge role in getting an MRI scan approved with insurance. Her initial MRI scan found a tumor in Grace's brain.
After this finding, Grace's parents had to fight the insurance company to approve more tests. An MRI only showed one aspect of the tumor, but they needed to get a more detailed view so that they could start the most appropriate treatment. In Grace's case, the rarity of pediatric cancer, combined with the rareness of brain cancer, made for a difficult diagnosis.
Once Grace was diagnosed, they could switch into treatment mode. Treatment brought its own challenges, as there were several doctors that had different opinions and different ideas for treatment. As parents, doctors would ask what we thought would be best, but we are not subject matter experts. It can be hard to decide what course of action would be best when doctors have differing recommendations.
Aubrey and Dan want research to continue and for doctors to have access to the tools that they need so that they can reach a diagnosis and appropriate treatment plan more quickly. After receiving treatment at Rutgers Cancer Institute and Newark Beth Israel Medical Center, Grace was declared cancer-free and has been so for the past five years.
A couple of years after Grace finished treatment, her father Dan was diagnosed with Nodular lymphocyte-predominant Hodgkin lymphoma (NLPHL), a rare type of lymphatic cancer. Like Grace's tumor, his cancer was also rare, however, his experience was different from hers. With his cancer, enough research had been done that identified specific markers in blood that allowed his cancer to be caught quickly. After about 11 months of treatment, Dan has been cancer-free for about two years.
He supports advancements in childhood cancer research so that children can be diagnosed quickly, like he was, and begin a treatment plan as soon as possible.
Today, Grace leads her own cancer-fighting organization, WITH Grace Initiative. There are three pillars related to her organization: awareness for pediatric cancer and especially pediatric brain cancer, funding research and improving direct care.  She wants more investment in research so that treatments can be developed that are less toxic to kids. Many of the treatments are designed for adult bodies and can be very harsh on kids. While the funds Grace's organization raises make a difference, the U.S. government remains the largest funder of cancer research.
Send a message to your members of Congress and urge them to fully fund the STAR Act for childhood cancer research.
The WITH Grace Initiative assists families in caring for children going through cancer treatment by giving out books, food, phone chargers, whatever they can to make this experience easier for them.  They also give gifts and meals to hospital staff to express appreciation for their hard work. Grace also leads a monthly meeting for childhood cancer survivors, connecting them with children who are currently undergoing treatment.
How did it feel being at Childhood Cancer Action Day at the Capitol?
Grace: It was a lot of fun. We met with lawmakers, and they were receptive to our message. We got to meet a lot of families, including other families from New Jersey. You can feel that you are making a difference. When we met with lawmakers to tell our story, we put a face to childhood cancer issues. Events like this are so important because you walk away feeling energized. By the end of the day, we were tired, and our feet were sore, but it was worth it!
Dan: In-person advocacy events like this one are important because you realize that you're not in a vacuum. You hear stories from other families fighting for the same cause, and you realize how differently pediatric cancer impacts every family. We were lucky because we never had to drive more than an hour for an appointment. This isn't the case for all families. We met one family at Childhood Cancer Action Day that had to go out of state to access the right treatment.
We feel invigorated knowing that we are not alone in our efforts. We won't stop until no family has to hear the words: "there's nothing more we can do." We are fighting to invest more in research so that more kids can be saved.
Why do you feel that advocacy is important? Why should people get involved?
Advocacy is so important because it influences the decisions made by lawmakers. Being an advocate sounds intimidating, but you should never doubt the impact that you can make. Your story has power. Your experience has power. Everyone has something to offer, and no contribution is too small.
There are opportunities to get involved at all levels. You don't have to meet with a lawmaker in person.  You can write an email or make a phone call instead. Progress in cancer research is not the result of one person, but rather small advancements over time. Advocacy is the same.
"It's a marathon, not a sprint," Aubrey adds. "Together, we can make a difference in the lives of current and future patients."
Top-down leadership from lawmakers is important, but we also need grassroots support from the bottom up. Childhood cancer is scary. Advocacy is our way of paying it forward. The medical staff was invaluable in getting Grace the care that she needed. Through advocacy, we can support clinicians by urging lawmakers to put more resources into research.
"It feels good to do good," Dan says. You don't have to have been personally impacted by childhood cancer to be an advocate. The progress in childhood cancer care that we are looking for won't be achieved overnight. Our actions build upon one another, helping to find more cures and better treatments.
What can others do if they want to get involved? 
You can start by writing to your members of Congress to fully fund the STAR Act. By fully funding the STAR Act, Congress can increase opportunities for childhood cancer research, improve the quality of life for childhood cancer survivors and expand efforts to track childhood cancer incidence.
Send a message to your members of Congress.  
If you want to know more about ways to get involved for childhood cancer, visit the American Cancer Society's Gold Together Program page at www.cancer.org/goldtogether.