Unlocking Cures: ACS CAN Highlights the Need for Diversity in Clinical Trials
The American Cancer Society Cancer Action Network (ACS CAN) is featured in the Urban One 2022 Engaging Black America Special Supplement issued today – and, as always, we are highlighting yet another critical issue that has lifesaving implications for Americans all across the country.
Clinical trials are key to unlocking cures. They serve as a key opportunity for people with cancer to receive the most the most cutting-edge treatments – but not everyone has access. Longstanding barriers to participation mean that certain populations face greater hurdles to these lifesaving innovations.
Communities of color, rural Americans, older Americans, and those with limited incomes continue to be underrepresented in cancer clinical trials, further exacerbating disparities in outcomes and adding to the already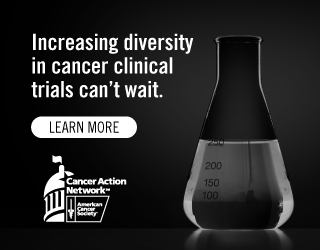 disproportionate cancer burden experienced by these populations.
If we are going to make true progress in cancer treatment, we engage every single community affected by this disease. Making clinical trials more accessible for traditionally underrepresented groups would be a significant step forward. That's exactly why ACS CAN CEO Dr. Karen Knudsen has teamed up with Congresswoman Joyce Beatty of Ohio, who serves as chairwoman of the Congressional Black Congress, to co-author an editorial in the Urban One Engaging Black America Special Supplement, urging lawmakers to come together and take meaningful action to increase diversity in clinical trials by supporting the DIVERSE Trials Act (H.R. 5030/S. 2706).
This exciting piece of legislation gives lawmakers the chance to enact legislative solutions that address non-medical costs associated with clinical trial participation, like lodging and transportation, to alleviate financial and logistical barriers faced by patients.
You can read the editorial from ACS CAN's Dr. Knudsen and Congresswoman Beatty here. With its publication in Urban One Engaging Black America – the largest media company aimed at reaching the Black community – ACS CAN is bringing greater awareness to the lack of diversity in clinical trials as part of our goal to ignite broader national conversations about health equity. In addition, an ACS CAN advertisement about this important issue is featured on the back cover of the supplement as well.