Iowa State Lead Ambassador
Gary Streit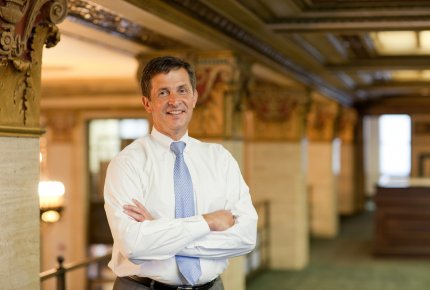 Gary Streit has been volunteering with ACS CAN since its founding in 2001 and with ACS since before 1978. During his time with ACS CAN and ACS, Gary has served as the National Chairman of the ACS Board of Directors and has received the Ted Mars Lifetime Achievement in Advocacy Award from ACS CAN, and an Iowa Lifetime Achievement Award. Gary lives in Cedar Rapids and is a lawyer. He also volunteers with the United Way, the YMCA, the Public Library Foundation, the Economic Development Groups, and the Iowa State University Foundation.
Why are you a cancer advocate?
I am an advocate because I believe in the importance of the mission. I believe in this mission even more so since I became a cancer survivor about a year ago.
What is something unique about you or your state that you would like to share?
We have great advocacy volunteers in Iowa, just as we do across the country. Their passion, courage, and commitment are amazing.
What is your proudest accomplishment as an ACS CAN volunteer?
My proudest accomplishment is the passage of the Iowa SmokeFree Air Act and the tobacco tax increase in Iowa.
Want to join me in the fight against cancer? Fill out this form to sign up to be an ACS CAN volunteer in Iowa.