ACS CAN volunteers ask presidential candidates where they stand on cancer issues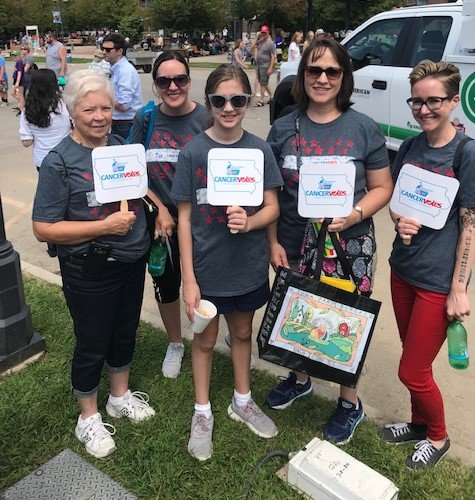 ACS CAN volunteers attended the Iowa State Fair as part of the American Cancer Society Cancer Action Network's (ACS CAN) Cancer Votes program.
Volunteers came from across the state to ask the 2020 Presidential candidates, how would they use their power to reduce the burden of cancer, if elected.
The purpose of Cancer Votes is to raise the public profile of cancer issues by educating the public about candidates' positions on important policy issues that are part of ACS CAN's fight against cancer. ACS CAN is nonpartisan and does not advocate for or against the election of particular candidates or otherwise attempt to influence the outcome of any elections.
More than half a million people in the U.S. will die from cancer this year. In Iowa alone there will be an estimated 17,810 people diagnosed with cancer, and 6,480 people will die from the disease.  That's why lawmakers at every level of government need to understand that they play an enormous role in winning the fight against cancer.
Twenty-three candidates participated in the Des Moines Register's Political Soapbox during the Iowa State Fair. Candidates had thirty minutes to speak and answer questions from the audience. Iowa is home to the country's first Presidential caucus on February 3, 2020 and is an area of focus for candidates.
Volunteers wore Cancer Votes t-shirts, handed out fans, and worked to raise the profile of cancer as an election issue. ACS CAN Iowa had over 80 volunteers and staff representing ACS CAN and Cancer Votes at the Iowa State Fair. According to Angie Sylling, Grassroots Manager for ACS CAN in Iowa, "The volunteers came out to the fair and did a great job of tracking down the candidates that were here to ask them about cancer issues." ACS CAN volunteers were able to ask ten candidates what they would do about the burden of cancer if elected and they were also able to meet and introduce themselves to another five candidates.
If you would like to participate in future Cancer Votes activites in Iowa, sign up online.