35 Patient and Provider Advocacy Groups Deliver Letter in Support of Step Therapy Reform Legislation (A4815/S3051)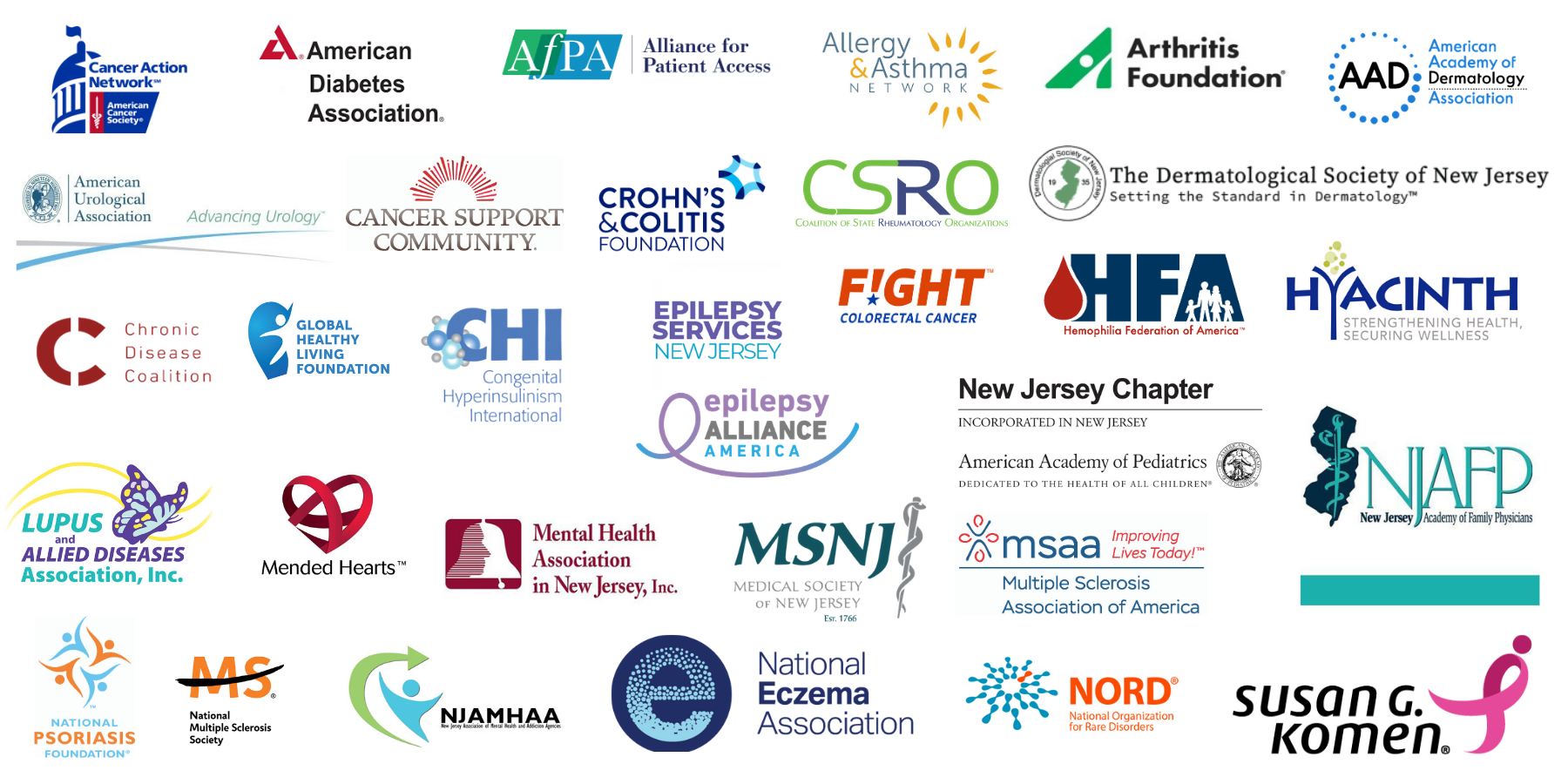 NEW JERSEY PATIENTS DESERVE THE RIGHT MEDICINE AT THE RIGHT TIME
35 Patient and Provider Advocacy Groups Endorse Step Therapy Reform Legislation (A4815/S3051)
April 2021
Dear Policymaker,
On behalf of the New Jersey Step Therapy Coalition, an expansive and diverse group of patient advocacy groups who share a common goal of increasing access to life-changing medications for New Jerseyans, we encourage your support of A4815/S3051. This legislation would ensure that when step therapy is used in New Jersey it is safe for patients, clinically grounded, and, transparent to patients and health care providers.
Step therapy policies, also known as fail first, are used by health insurers to force patients to try medications that insurance companies choose, requiring the patient to "fail first" before gaining access to the medicine originally prescribed by their health care provider. This insurance practice undermines a doctor's ability to appropriately treat patients with serious diseases and can greatly impede patient recovery.
The practice has grown increasingly difficult, causing many New Jerseyans with chronic diseases to suffer lengthy delays in access to the right treatment, which could result in possible irreversible progression of disease and adverse effects. This may ultimately lead to increases in unnecessary health care costs associated with additional provider visits, ER visits, hospitalizations, and other costs.
A survey of more than 1,400 patients conducted in 2016 by the Arthritis Foundation revealed that over half of all patients reported having to try two or more different drugs prior to getting the one their doctor had originally ordered. Step therapy was stopped in 39 percent of cases because the drugs were ineffective, and 20 percent of the time due to worsening conditions. Incredibly, nearly a quarter of patients who switched insurance providers were required to repeat step therapy with their new carrier.
In a 2019 survey of cancer patients, caregivers and doctors by the American Cancer Society Cancer Action Network, patients and caregivers reported that step therapy policies delayed their care, increased their stress and frustration, contributed to worse outcomes and cost them more out of pocket. Doctors reported that these requirements made it harder for them to treat patients, delayed treatment and were time consuming.
We support A4815/S3051 because it protects patients by establishing common-sense protocols to govern the step therapy practice in New Jersey. This legislation does not prohibit insurers from using step therapy but seeks to balance cost containment with patient needs.
Specifically, A4815/S3051 will:
Ensure that step therapy protocols are based on widely-accepted medical and clinical practice guidelines;
Create a clear and expeditious process to request a medical exception and require a response by the patient's health plan within 72 hours for non-emergency and 24 hours for emergency situations; and
Provide certain circumstances for a patient to override the step therapy protocol when the drug required under the step therapy protocol is contraindicated or will likely cause an adverse reaction of physical or mental harm; is expected to be ineffective; was previously tried and discontinued due to lack of efficacy or effectiveness, diminished effect, or an adverse event; is not in the best interest of the patient based on medical necessity; or if the patient is currently stable on a medication prescribed by their healthcare provider
Living with Arthritis, Autoimmune Disorders, Cancer, Crohn's and Colitis, Diabetes, Eczema, Epilepsy, Heart Disease, HIV/AIDS, Mental Illness, Multiple Sclerosis, Psoriasis, or other diseases and chronic conditions is hard enough. Patients need the right medicine at the right time. It is time for step therapy reform in New Jersey.
A4815/S3051 will create appropriate exceptions to step therapy to improve patient care, reduce unnecessary treatments, and ultimately reduce health care costs by returning prescription decision-making back to health care providers and their patients.
Twenty-eight states already regulate step therapy practices in their states.  It is time for New Jersey to do the same. We, the undersigned organizations, respectfully ask that the New Jersey Assembly and Senate pass A4815/S3051.
Sincerely,
Allergy & Asthma Network, Kelly Barta, State Advocacy Project Manager
Alliance for Patient Access, Charlie Husser, State and Federal Policy
American Academy of Dermatology Association, Bruce H. Thiers MD, FAAD, President
American Academy of Pediatrics, Felicia K. Taylor, CEO, New Jersey Chapter,
American Cancer Society Cancer Action Network, Michael Davoli, New Jersey Government Relations Director
American Diabetes Association, Stephen Habbe, Director, State Government Affairs
American Urological Association, Dr. Eugene Rhee, Public Policy Council Chair
Arthritis Foundation, Steven Schultz, State Director, Advocacy & Access
Association for Clinical Oncology, Allison Rollins, MSc, Senior Manager, State Advocacy
Cancer Support Community, Rachel Solomon, Director, Policy
Chronic Disease Coalition, Erin Foote Morgan, Executive Director
Coalition of State Rheumatology Organizations, Brian Henderson
Congenital Hyperinsulinism International, Julie Raskin, Executive Director
Crohn's & Colitis Foundation, Jake Johnson, State Advocacy Manager
Epilepsy Alliance America, Jeff Sinsebox, Board President
Epilepsy Services of New Jersey, Liza Gundell, CEO
Fight Colorectal Cancer, Molly McDonnell, Director of Advocacy
Global Healthy Living Foundation, Corey Greenblatt, MPH, Manager, Policy and Advocacy
Hemophilia Federation of America, Miriam Goldstein, J.D., Policy Director & Principal Legal Counsel
Hyacinth Foundation, Wesley McWhite III, Policy and Development Manager  
Lupus and Allied Diseases Association, Inc., Kathleen A. Arntsen, President & CEO
Medical Oncology Society of New Jersey, Mark S. Pascal, MD, President
Medical Society of New Jersey, Marlene M. Kalayilparampil, MHA, FHELA, Manager, Government Relations
Mended Hearts, Andrea Baer, Executive Director
Mental Health Association in New Jersey, Barbara Johnston
Multiple Sclerosis Association of America, Kyle Pinion, Senior Director, Education, Healthcare Relations & Advocacy
National Eczema Association, Michele Guadalupe, Associate Director Advocacy & Access
National Multiple Sclerosis Society, Mara Brough
National Organization for Rare Disorders, Annissa Reed, State Policy Manager, Eastern Region,
National Psoriasis Foundation, Kristen Stiffler
New Jersey Academy of Family Physicians, Claudine M. Leone, Government Affairs Counsel
New Jersey Association of Mental Health and Addiction Agencies, Inc., Debra L. Wentz, Ph.D., President and CEO
New Jersey Rheumatology Association, Evan Leibowitz, MD
Susan G. Komen, Steven Raga, Northeast Regional Manager for State Policy & Advocacy
The Dermatological Society of New Jersey, Mary Malason, Administrator