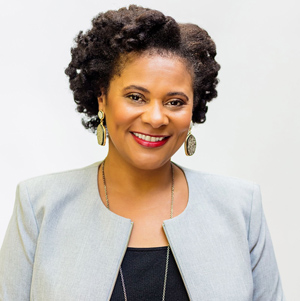 Karen Winkfield, MD, PhD, is the Executive Director of the Meharry-Vanderbilt Alliance, a strategic partnership between Meharry Medical College and Vanderbilt University Medical Center in Nashville, Tennessee. A national expert in community engagement with research focused on the design and implementation of programming to reduce sociocultural and economic barriers that contribute to disparate health outcomes for racial/ethnic minorities and underserved populations, Dr Winkfield's current responsibilities include collaborating with Vanderbilt University Medical Center and Meharry Medical College to ensure their investigators have access to expert faculty collaborators, core resources and services to catalyze innovative research.
Prior to joining the Meharry-Vanderbilt Alliance, she was an Associate Professor of Radiation Oncology at Wake Forest University, Associate Director for Community Outreach and Engagement and Director of the Office of Cancer Health Equity at the Wake Forest Baptist Comprehensive Cancer Center.
Prior to joining Wake Forest in August 2016, Dr Winkfield was a radiation oncologist at Massachusetts General Hospital Cancer Center. She specializes in the use of radiation therapy in the treatment of hematologic malignancies (lymphoma, leukemia, multiple myeloma, bone marrow transplantation) and breast cancer. Dr Winkfield developed the first comprehensive clinical program focused on hematologic malignancies in the Department of Radiation Oncology at Massachusetts General Hospital. With support of collaborating oncologists, she also established the first multidisciplinary clinic for patients with hematologic disorders. Dr Winkfield earned her medical degree and a PhD in pathology and proteomics from Duke University.