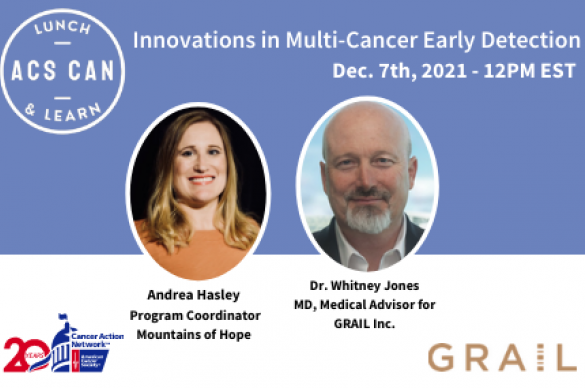 WV ACS CAN Lunch and Learn: Innovations in Multi-Cancer Early Detection
Tuesday, December 7, 2021 - 12:00pm
EST
WV ACS CAN LUNCH and LEARN: INNOVATIONS IN MULTI-CANCER EARLY DETECTION
 The 2021 WV ACS CAN Lunch and Learn will be held on December 7th. This event will focus on "Innovations in Multi-Cancer Early Detection." 
This Lunch and Learn is our featured event that brings together key leaders and decision-makers in advocacy, education, medicine, and academia to discuss emerging oncology and health care policy issues that affect Appalachia's physical and economic health.
 Dr. Whitney Jones, MD, Senior Medical Director, GRAIL, Inc.
Andrea D. Hasley, MA., Program Coordinator Mountains of Hope, West Virginia's Cancer Coalition.
Thank you to our Sponsor