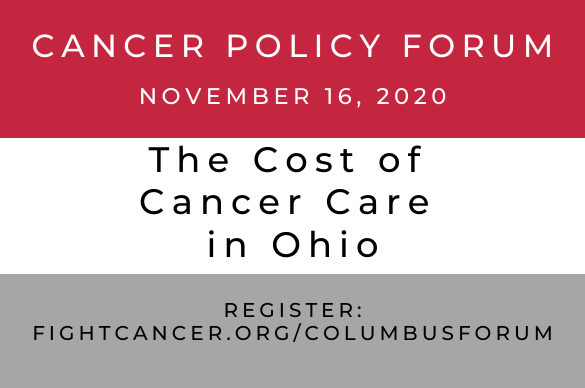 Pre-Registration Closed: Virtual Cancer Policy Forum: The Cost of Cancer in Ohio
Monday, November 16, 2020 - 11:00am
More than 70,000 Ohioans will be diagnosed with cancer in 2020 and the decisions made in the statehouse or in the White House can be just as consequential for patients as the decisions made in their doctor's office. Join ACS CAN for a virtual, wide-ranging discussion about the public policies that affect the cost of, access to and delivery of cancer treatment. 
Panelists:
Dr. Sameek Roychowdhury, OSUCCC James
Rep. Susan Manchester, Ohio House of Representatives 
Wendy Xu, PhD, OSU College of Public Health
Brendan Hurst, LISW, Ohio Health
Jennifer Hoque, American Cancer Society Cancer Action Network
Julie DiRossi-King, Ohio Association of Community Health Centers (Moderator) 
Key Discussion Points:
What are the biggest cost drivers of out-of-pocket costs for patients?
What's next for value-based cancer care? 
How can policymakers help reduce patient costs? 
How do we help patients deal with financial toxicity?
For more information, including sponsorship opportunities, please contact 
[email protected]
Thank you to our sponsors: