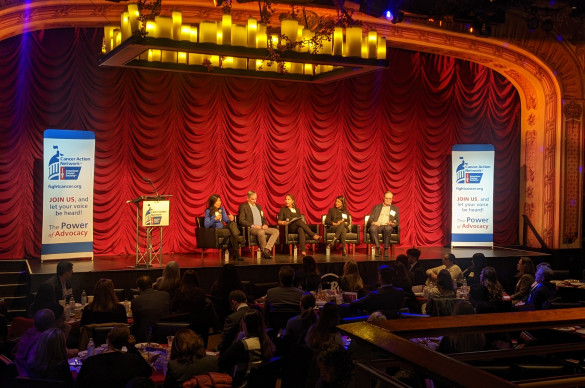 The Future of Cancer Care Policy Forum in New York City
Thursday, November 16, 2023 -

10:00am

to

12:00pm
Hard Rock Cafe Times Square


Forum Focus | Advancing Research, Innovation and Health Equity
Cancer remains a critical public health problem and how new cures are discovered and delivered will continue to change. Getting new and affordable cancer therapies from the research lab to the patient will require collaborative solutions from researchers, business leaders, providers, and policymakers.
Research and Innovation.
Advancements in medical research have unleashed new and improved therapies that are revolutionizing cancer care.

Researchers from New York and New Jersey institutions are playing a key role in these advancements, but what does the future hold for federal investment in medical research?  

Is the discovery pipeline growing to meet the demand of cancer rates?  

What have we accomplished and what's next for cancer research and treatment?
Equity.
The pandemic has exposed health disparities that exist in communities across the country. 

The cancer death rate is 20% higher for individuals from the poorest U.S. counties compared to affluent counties. 

The 5-year relative survival rate is lower among Blacks than Whites for every stage of diagnosis in the four most common cancer sites.

What is health equity and what public policies need to be considered to close the gap for all cancer patients?   
Ways to Support ACS CAN's Impact
We invite you to be part of a group of sustaining supporters enabling ACS CAN's work to catalyze scientific discovery and accelerate cures. With your help, our advocacy will not stop. Join us and together we can save lives and lead the fight for a world without cancer.
To learn more about Event Sponsorship, Leadership Gifts, or Corporate Membership Opportunities Click here
To secure an Event Sponsorship Click here
To make a Leadership Gift Donations Click here
For more information about Corporate Membership, please contact Michael Davoli at Michael.Davoli@cancer.org. 
Thank you to our 2023 sponsors.
                 Silver                

AstraZeneca
Bristol Myers Squibb
GRAIL
Bronze 
       PhRMA        
Northwell Health System / Cold Spring Harbor Laboratory
Sanofi
          Amgen         
Genentech
Merck 
Advocate 
Janssen/Johnson and Johnson   
Reid McNally and Savage LLC