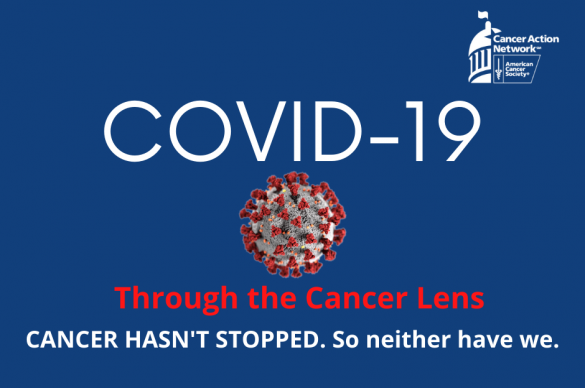 COVID-19: Through the Cancer Lens
Friday, August 21, 2020 -

10:00am

to

11:00am
ACS CAN South Carolina Health Policy Forum 2020
Pre-Registration for the 2020 South Carolina Health Policy Forum is now closed. You may register the day of the event (August 21st, 10AM ET) by clicking here.
Save this event to your Outlook calendar! 
________________________________________________________________________________________
The American Cancer Society Cancer Action Network (ACS CAN) will host the annual South Carolina Health Policy Forum, COVID-19: Through the Cancer Lens on August 21, 2020 from 10am to 11:30am. The event will feature perspectives from leaders in policy, health, business and academia, and explore cancer care, prevention, and access to health care during COVID-19.
We are excited to announce the following guest speakers:
Moderator: Dr. Jan Eberth: Associate Professor, Director Rural and Minority Health Research Center at the University of South Carolina.
Opening Remarks: Dr. Gene Saylors: President of the SC Oncology Society
Forum Focus: Reducing Barriers, Expanding Access to Care, and Protecting Prevention Funding
We invite you to join ACS CAN as we consider the following:  
Q: How does South Carolina ensure affordable care to all patients?
Q:  What can we do as a state to ensure all people and especially our underserved communities have      availability to cancer care?
Q: What action or policy changes are needed to promote and progress health equity in South Carolina?
Agenda
August 21, 2020 10am to 11:30am
10:00 am      Welcome by ACS CAN Volunteer Pansy Yates and University of South Carolina Representative
10:10am        Opening Address, Dr. Gene Saylor- SC Oncology Society President
10:30am       Panel Discussion Moderated by Dr. Jan Eberth, USC Center for Rural Health
11:15am         Discussion and Q&A with Panel
11:30am        Closing Address
Thank You To Our Sponsors
---