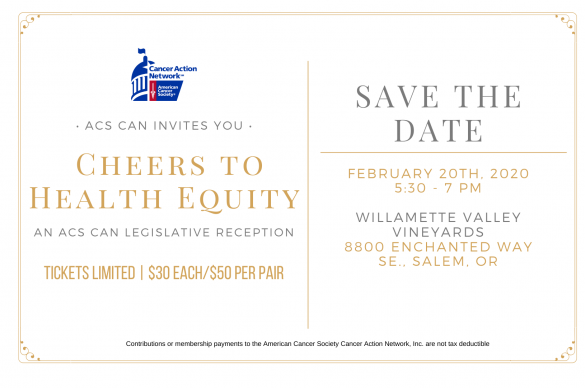 Cheers to Health Equity
Thursday, February 20, 2020 - 5:30pm
Willamette Valley Vineyards
Hosted By: 

Senator Dennis Linthicum | Senator Shemia Fagan | Senator Tim Knopp | Senator Elizabeth Steiner Hayward | Senator Denyc Boles | Representative Rob Nosse | Representative Tiffiny Mitchell | Representative Ron Noble | Representative Raquel Moore Green | Representative Cedric Hayden | Salem Mayor Chuck Bennett | Dr. Bud Pierce
On February 20th, the American Cancer Society Cancer Action Network invites you to join us in celebrating the advancements in cancer care that have brought us life-saving screenings and a better understanding of prevention. We will discuss how ACS CAN's public policy priorities are striving to further close the gap in cancer outcomes. 
You are invited to join us in our second annual event bringing together nearly 100 leaders in public policy and health care including elected officials from across the state and community leaders in the Salem metro area. 
At 5:30 PM we'll begin with hors d'oeuvres and wine before a short program. 
Tickets are limited | $30 PER PERSON/$50 PER PAIR 
Please consider making a donation if not able to attend!
Presenting Sponsors: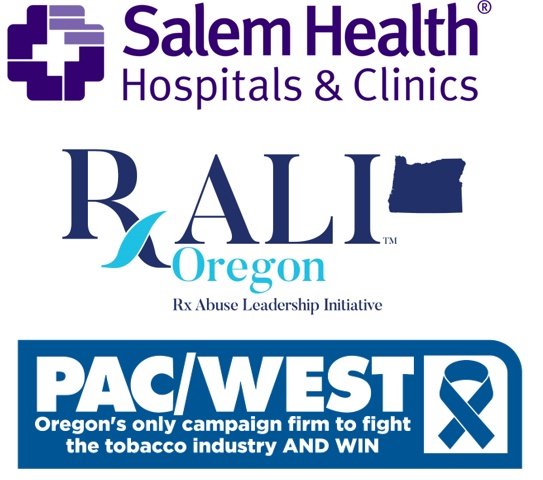 Sponsored by: 
Keudell/Morrison Wealth Management 
Green Acres Landscape, Inc
Valley Credit Union 
Contributions or membership payments to the American Cancer Society Cancer Action Network, Inc. are not tax deductible