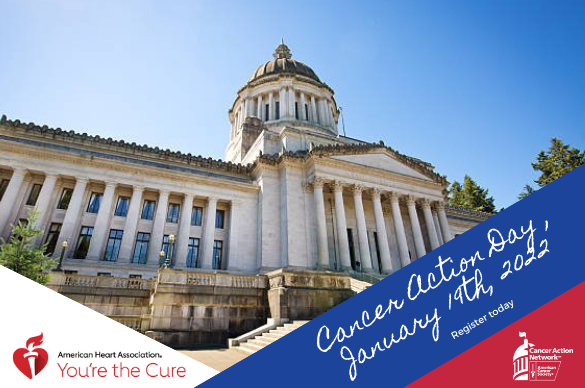 ACS CAN Washington & American Heart Association Cancer Action Day
Wednesday, January 19, 2022 (All day)
PST
In 2022, we're continuing to make our cancer-fighting voices heard in Washington State, even if we have to do it virtually! Register for our virtual 2022 Cancer Action Day event, and a week's worth of actions, on Wedensday, January 19th. This year we are honored to jointly host this event with the American Heart Association. 
Join me and hundreds of volunteers from across our state, and the American Heart Association, in the fight for legislative solutions to prevent and treat cancer. This year our focus will return to tobacco control, access to cancer screenings, and, in a new issue for us, access to ground-breaking biomarker testing for cancer patients. These legislative items will contribute to reducing health disparities impacting at-risk and under-served communities.
By meeting with your lawmakers, you will help protect the lives of thousands of families across our state. Even though we're virtual again in 2022 we'll have an impactful day/week of action, including issue briefings, social media activities, and time to ask your lawmakers to stand up for cancer patients.
Never participated in a virtual meeting with your lawmaker? Don't worry! We will provide you with training and everything you will need to be successful. All you need is passion to make an impact in the fight against cancer.
If you have any questions, please contact Audrey Miller, Washington Grassroots Manager, at [email protected]