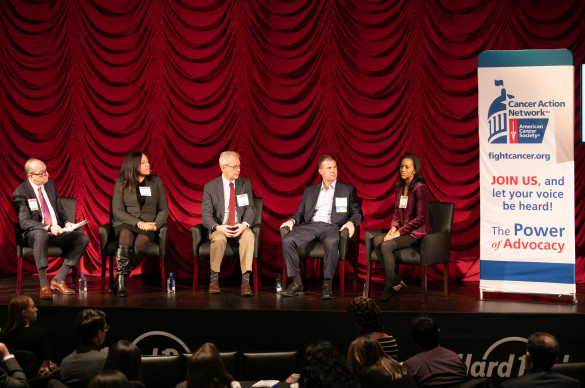 ACS CAN NY & NJ 2021 Policy Forum: Advancing Research, Innovation and Health Equity
Friday, November 19, 2021 -

10:00am

to

11:30am

---
Forum Focus | Advancing Research, Innovation and Health Equity
Cancer remains a critical public health problem and how new cures are discovered and delivered will continue to change. Getting new and affordable cancer therapies from the research lab to the patient will require collaborative solutions from researchers, business leaders, providers, and policymakers.
Research and Innovation.
Advancements in medical research have unleashed new and improved therapies that are revolutionizing cancer care.

Researchers from New York and New Jersey institutions are playing a key role in these advancements, but what does the future hold for federal investment in medical research?  

Is the discovery pipeline growing to meet the demand of cancer rates?  

What have we accomplished and what's next for cancer research and treatment?
Equity.
The pandemic has exposed health disparities that exist in communities across the country. 

The cancer death rate is 20% higher for individuals from the poorest U.S. counties compared to affluent counties. 

The 5-year relative survival rate is lower among Blacks than Whites for every stage of diagnosis in the four most common cancer sites.

What is health equity and what public policies need to be considered to close the gap for all cancer patients?   
Ways to Support ACS CAN's Impact
We invite you to be part of a group of sustaining supporters enabling ACS CAN's work to catalyze scientific discovery and accelerate cures. With your help, our advocacy will not stop. Join us and together we can save lives and lead the fight for a world without cancer.
To learn more about Event Sponsorship, Leadership Gifts, or Corporate Membership Opportunities Click here
To secure an Event Sponsorship Click here
To make a Leadership Gift Donations Click here
For more information about Corporate Membership, please contact Julie Hart at 518.505.7833 or at

[email protected]

.
PAST FEATURED SPEAKERS INCLUDED
Hon. Hakeem Jeffries, United States House of Representatives

Dr. Howard A. Zucker, Commissioner, New York State Department of Health

Roma Torre, Journalist, NY 1

Dr. Abe Chachoua, Director, Lung Cancer Center, Perlmutter Cancer Center at NYU Langone

Lorraine Braithwaite-Harte, Health Chair, NAACP New York State Conference 

Niesha Foster, Vice President, Product Access, Global Health & Patient Access, Pfizer

Hon. Rodneyse Bichotte, New York State Assembly

Vivian J. Bea, MD, MBS, Section Chief, Breast Surgical Oncology, New York-Presbyterian, Brooklyn Methodist Hospital
ADDITIONAL PAST SPEAKERS INCLUDED
Sandra Cassese, MSN, RN, CNS, Vice President and Chief Operating Officer for Hospice of Orange & Sullivan Counties and Chair of the Board for American Cancer Society Cancer Action Network, Inc.

Cynthia Rogers, Cancer survivor and ACS CAN advocate

Diane Nathaniel, Cancer survivor and ACS CAN advocate

John J. Manna, Jr., Esq., Board Treasurer, American Cancer Society Cancer Action Network, Inc

Shalini Vallabhan, PHD, Managing Director, Government Relations, American Cancer Society Cancer Action Network, Inc
---
Thank you to our 2020 sponsors.
 
Fight Cancer Sustainers Circle
Pfizer
Cancer Changemakers
AbbVie      AstraZeneca      Bristol Myers Squibb      Hologic      PhRMA
Luminary of Hope
Genentech     GlaxoSmithKline     John Manna     Novartis     Regeneron
Advocate
Flatiron Health     Hodes & Landy     Janssen Oncology     Kris Kim     
Mount Sinai Health System       Northwell Health System       Perkins Eastman
Contributors
Amgen    CVS Health    Jennifer Bland    Merck 
Peggy Silbert    Sandra Cassese     Takeda     
---
Special Thanks To Our 2020 Host Committee Members
Abraham Aragones
Memorial Sloan Kettering
Vivian Bea
Chief of Breast Surgical Oncology, New York – Presbyterian, Brooklyn Methodist Hospital
Jennifer Bland
Executive Director, NewYorkBio
Sandi Cassese
Hospice of Orange & Sullivan Counties
Chair, American Cancer Society Cancer Action Network Board
Stephanie Darwak
Consultant, Cullari Communications Global
Ginger Lynch Landy
Principal, hodes & landy
John Manna
Member, American Cancer Society Cancer Action Network Board
Neal Meropol
Vice President, Head of Medical and Scientific Affairs, Flatiron Health
Jeff Molter
Director of Communications, Perlmutter Cancer Center, NYU Langone
Brad Perkins
Co-founder and Chairman, Perkins Eastman
Hansini Sharma
Practice Lead, Corporate Travel, Acquis Consulting Group
Dmitri Siegel
Bristol Myers Squibb
Cardinale Smith
Associate Professor of Medicine, Division of Hematology and Medical Oncology & Department of Geriatrics and Palliative Medicine, Icahn School of Medicine, Mount Sinai
Francesca Tedesco
Vice President, Market Access, Applied Therapeutics
Caitlin Tolman
Director, Healthcare & Life Sciences Strategy and Business Development, Carta