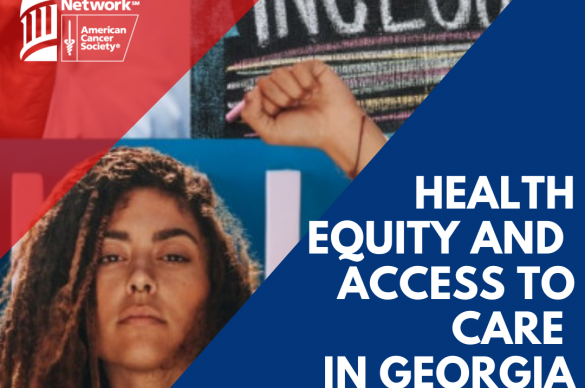 2021 Policy Forum: Health Equity and Access to Care in Georgia
Tuesday, October 26, 2021 -

12:00pm

to

1:00pm
If we are to achieve the goal of defeating cancer, we must fight to achieve health equity, the just and fair opportunity for everyone to prevent, find, treat and survive cancer – regardless of how much money they make, the color of their skin, their sexual orientation, their gender identity, their disability status, or where they live. This virtual event will focus on health equity and its impact on access to care in the cancer space.
ACS CAN will host its annual Georgia Policy Forum on Tuesday Oct. 26 via Zoom at 12:00 pm. This event will bring together key leaders and decision makers in government, research, and academia to discuss emerging equity and health care policy issues that affect the physical and economic health of Americans.
Discussion Points
Health equity means that everyone has a fair and just opportunity to be as healthy as possible which requires removing obstacles to health such as poverty, discrimination, and their consequences. What does health equity look like and what are we doing to close the gap for cancer patients in Georgia?
Protecting access to appropriate, high quality and patient-centered cancer care is critical to achieving optimal patient outcomes. How can we improve patient access to healthcare to improve cancer mortality in Georgia?
Rising costs are leading to big shifts in how healthcare is delivered and who pays for it. What policies does ACS CAN advocate for that ensure access to quality, affordable and comprehensive health insurance including efforts to curb the availability of inadequate health plans and protect and enhance Medicaid eligibility?
Thank You to our Sponsors for their generous donations!
Presenting Sponsor:

Gold Sponsors:
Silver Sponsors: