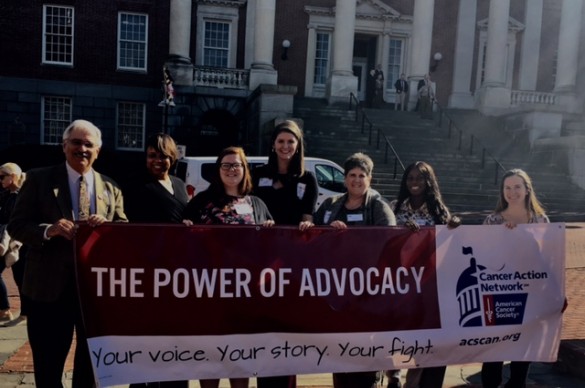 2020 Day at the Capitol
Thursday, February 6, 2020 -

8:30am

to

1:00pm
Last year, volunteers from across the state gathered in Annapolis to share their cancer stories with lawmakers as part of our annual Day at the Capitol event. The day was wildly successful and led to the passage of the Tobacco 21 law, which raised the minimum sales age of tobacco products to 21 and passed legislation to prohibit all minors from using tanning beds. These two pieces of legislation will help to save thousands of lives from cancer.  
The state's budget also included increased funding for the Maryland Breast and Cervical Cancer Diagnostic and Treatment Program, which is helping more women in our state have access to free mammograms and treatment.
So, we're doing it again! This year's Day at the Capitol 2020 will focus on two priority issues- Raising the sales tax on cigarettes by $2.00 per pack with an increase on all other tobacco products, including electronic smoking devices, restricting the sale of all flavored tobacco products, including menthol cigarettes and flavored cigars, and repealing the "implied preemption" court doctrine to clarify local authority, so that local governments can pass policies to protect their residents.
We will need all the voices we can gather to convince lawmakers to make these issues top priorities in Maryland this year, but together we CAN win! Here are the event details:
February 6, 2020, 8:30 am – 1:00 pm
House Office Building, 6 Bladen Street, Room 170, Annapolis, MD
You must register in order to attend this event.  Meetings with your lawmakers will be scheduled.  Click on the blue button above.
For questions, please contact Sherry McCammon at

[email protected]
See you in February!
Sherry McCammon, MD and DC Grassroots Manager