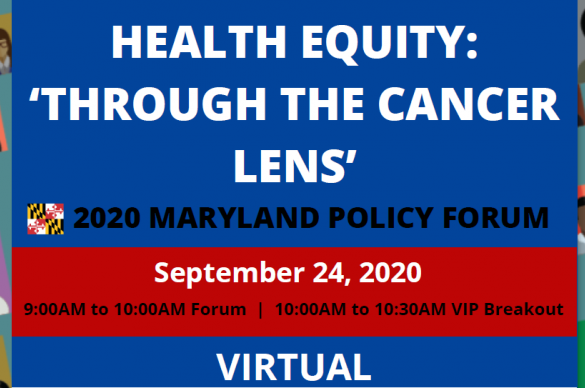 2020 ACS CAN MD Policy Forum - Health Equity: 'Through the Cancer Lens'
Thursday, September 24, 2020 - 9:00am
About the Event
Join us to learn more about the social determinants of health ACS CAN is prioritizing and their connection to cancer prevention, detection, treatment, survivorship, disparities and inequities at the 2020 ACS CAN Maryland Policy Forum. We will explore evidence-based strategies that move us closer to health equity. There will be an in-depth discussion about roles that you, other organizations, the faith community, businesses and our government can and are playing in addressing these determinants of health.
We have a dynamite panel lined up, speakers include: Dr. David Mann (Epidemiologist at the Office of Minority Health and Health Disparities (MHHD) in the Maryland Department of Health), Dr. Otis Brawley (Bloomberg Distinguished Professor of Oncology and Epidemiology at Johns Hopkins University and former American Cancer Society Chief Medical Officer), Dina George Lansey, MSN, RN (Assistant Director of Diversity and Inclusion in Clinical Research and Instructor of Oncology at Johns Hopkins University), and Dr. Cher Dallal (Associate Professor, Epidemiology and Biostatistics at the University of Maryland School of Public Health). Marissa Brown (Senior Vice President, State and Local Advocacy at the American Cancer Society Cancer Action Network), Jacqueline Beale (MD State Lead Ambassador at the American Cancer Society Cancer Action Network), and Jocelyn Collins (Maryland and DC Government Relations Director at the American Cancer Society Cancer Action Network)  will also be speaking at the event.
Our forum mistress of ceremonies ad moderator will be Univision news anchor for "Univisión Washington Newscasts," host of "PoliticaYa," and ACS Maryland Board Member – Tsi-tsi-ki Félix. There will also be appearances by Governor Larry Hogan (R-MD), Del. Sheree Sample-Hughes (District 37A, Speaker Pro Tem and MD State Council on Cancer Control Member), and Del. Darryl Barnes (D-25 and Legislative Black Caucus Chairman).
For ACS CAN, health equity means everyone has a fair and just opportunity to prevent, find, treat, and survive cancer. To achieve health equity, individuals and populations with the greatest needs, least resources, and increased barriers require different, not equal, effort and resources to improve their health.
Pre-Registration fo the forum has now closed. You may register the day of the event to attend by clicking the link above. 
For those who have already RSVP'd, the link to join the event will be sent via email on September 23rd.
Thank You To Our Generous Sponsors!

Presenting Sponsor
Pfizer, Gilead Sciences, We Work For Health
Silver Sponsors
Genentech, Janssen Oncology, Merck, Takeda
Bronze Sponsors
To learn more about sponsorship opportunities, please click here. Please contact Jocelyn Collins at

[email protected]

or 301-254-0072, with any questions about sponsorship.