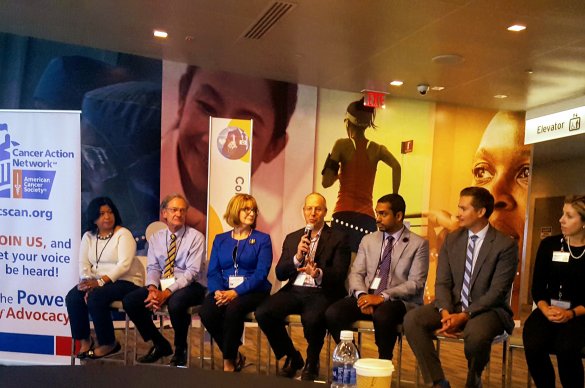 2019 Southwest Ohio Policy Forum
Monday, November 11, 2019 - 7:00am
Please join us for the 2019 ACS CAN Policy Forum in Southwest Ohio
Conquering cancer is as much a matter of public policy as it is a scientific discovery. Whether it is advancing prevention and early detection, increasing cancer research funding, enhancing quality of life from diagnosis to survivorship, and improving access to health coverage, ACS CAN protects the needs of patients and families, working to ensure that everyone has access to the care they need to prevent, detect and fight cancer.
Cancer research advancements offer hope to the millions of people who face cancer, which is why it is so important that the National Cancer Institute (NCI) continues to receive the government investment that it needs to support life-saving research projects.  
We invite you to join the American Cancer Society Cancer Action Center along with lawmakers, researchers, healthcare professionals, researchers and academics as we learn what important research is taking place in Southwest Ohio, who has benefitted from this research, how public policy impacts the advancement of cancer research and clinical trials and how you can make your elected officials aware of their role in saving more lives. 
 Focus Points
 
How does public policy impact the advancement of cancer research and clinical trials?   
How can we build capacity for cancer research and innovative treatment regimens in the Greater Cincinnati area?
How can state legislation and regulation improve access to innovative cancer therapies?
How can we increase diversity in clinical trials to acknowledge and align with the disparities in cancer incidence?  
Confired Speakers
Emcee & Event Host:  William Barrett, MD, Professor; Chair, Department of Radiation Oncology, Director, UC Cancer Institute
Trisha Wise-Draper, MD, PhD, Associate Professor of Medicine & Medical Director of the UCCI Clinical Trials office, University of Cincinnati
Dale Block, MD, MBA, CPE, Ohio Market Medical Director Medicaid & Marketplace, CareSource
Scott M. Langevin, PhD, MHA, CT (ASCP), Associate Professor of Epidemiology, University of Cincinnati
Welcoming Remarks: Mr. John Barrett, the Chairman, President and CEO of Western & Southern Life
Presented by: