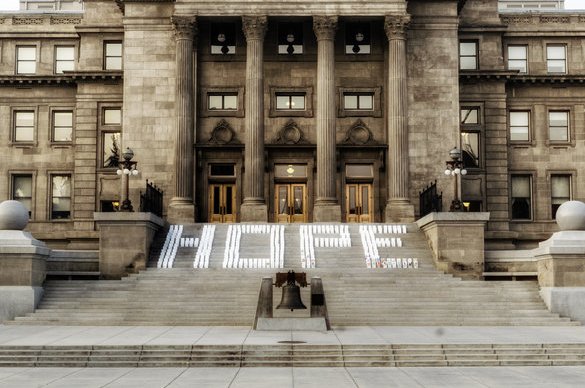 2019 Idaho Day at the Capitol
Monday, January 28, 2019 -

7:30am

to

2:00pm
Each year, cancer advocates from across Idaho gather at the State Capitol in Boise to make cancer a top priority! Together we CAN successfully advocate for laws that impact the issue of cancer and help make a difference in the lives of thousands of people in Idaho. 
On January 28th, we will gather at the State Capitol to unite our VOICES! 
Our day will begin in the Lincoln Auditorium in the west wing of the State Capitol with check-in at 7:20am followed by a review of our advocacy agenda and a brief training on how to speak to lawmakers. You will meet with your legislators in small groups following the training. Breakfast is provided in the rotunda and lunch is provided in conjunction with a debrief at a downtown restaurant following the morning meetings. Although lunch is not mandatory, we greatly appreciate your attendance. 
For those who are ready to build their advocacy skills, an in-depth training will take place on the Sunday prior to the Day at the Capitol. This highly recommended training will teach you how to navigate Idaho's legislative process and give you the tools needed to be an effective advocate for cancer issues.
All attendees are expected to join us for a Day at the Capitol Pre-Event Training Call on December 10, 2018 at 6:00pm or January 14, 2019 at 6:00pm. 
The call will prepare you for your Day at the Capitol and will include: 
An overview of our event activities.
Review of the asks we will be making of our legislators.
An update on the current legislative environment.
A review of proper etiquette/process of meeting with your legislators that day.
(If you are unable to join the preparation call, we will provide you with a recording via email for you to listen and prepare.)
Full event details, materials and attendee list will be emailed to registered participants the second week of January. 
Parking:
Attendees are encouraged to carpool with others to the event, especially from more distant areas. Parking near the statehouse can sometimes fill up quickly.
We can reimburse for parking in a garage or at a meter if you acquire a receipt.
If you are staying at the Hampton Inn parking in their lot is included as part of your stay so we encourage you to walk to the Capitol from the hotel if possible and weather permitting. You might consider carpooling to the morning events since parking near the statehouse fills up quickly.
Below is a DRAFT overview of the agenda.
Sunday January 27, 2019
3:00-5:00pm     In-Depth Training for Day at the Capitol
5:30-7:30pm      Exclusive Members Only Event 
7:30-8:30pm      Show Ends followed by time to mingle
Monday January 28, 2019
7:20-8:30am      Welcome, Overview and Ask Briefing at Idaho State Capitol Lincoln Auditorium
8:30–11:00am    Legislative Appointments and Breakfast Reception
12:00-12:15pm   Group Photo
11:00-12:30pm   Completion of Report Back Forms and Thank You Cards
1:00-2:00pm      Post event lunch and debrief