ACS CAN President Lisa Lacasse shares her views on the impact of advocacy on the cancer fight.
Years in the Making: Atlanta is One Step Closer to Being Smoke-free
I'm incredibly excited to write this post, as this accomplishment is years in the making and represents a significant achievement in our fight against cancer. Last week, the Atlanta City Council passed an ordinance that establishes smoke-free workplaces, including restaurants, bars and Hartsfield-Jackson International Airport. This city, renowned for its global influence in music, business and public health, has taken definitive action to protect the health of its workers and to honor everyone's right to breathe clean air. The next step is for Atlanta Mayor Keisha Bottoms to sign the ordinance into law, expanding smoke-free air throughout the city.  
The Smoke-free ATL campaign is a coalition of local and national organizations committed to protecting the city of Atlanta, one of our country's largest metropolitan areas, from the dangers of secondhand smoke exposure. At its helm are American Cancer Society Cancer Action Network (ACS CAN) advocates, leading the effort to reduce the toll of cancer by implementing a smoke-free workplace ordinance. Atlanta is one of the last major cities in the U.S. with the authority to pass a local smoke-free law to do so, and Hartsfield-Jackson Airport is the only one of the country's five busiest airports that still allows smoking indoors. Thanks to the determination of public health advocates and the leadership of City Council Members, Atlanta will join the list of cities that prioritize and recognize everyone's right to breathe clean air.
The smoke-free ordinance was introduced earlier this year by City Council Members Matt Westmoreland and Andre Dickens in their effort to finally implement a measure that protects workers in Atlanta from secondhand smoke exposure. Georgia's smoke-free law, enacted 14 years ago, includes several exemptions such as allowing smoking in bars and restaurants that do not employ people under the age of 18 and allowing smoking rooms at the airport. The ACS CAN Georgia team was determined to pass a stronger local ordinance that protects the health of those who live, work and visit the city.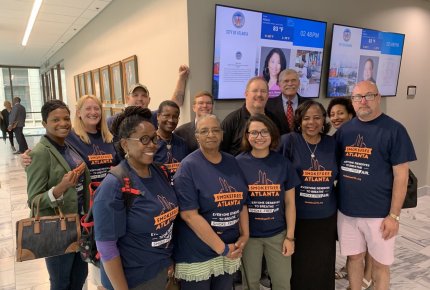 There are numerous reasons why this move is necessary to protect the health of Atlanta and reduce the toll of cancer. Due to the lack of a strong local ordinance, many low-wage, service and hospitality workers are still being exposed to secondhand smoke. Secondhand smoke contains more than 7,000 chemicals and causes nearly 42,000 deaths each year in the United States. According to U.S. Surgeons General, 100% smoke-free laws are the only effective method of fully protecting against dangerous secondhand smoke exposure. This ordinance will ensure that more employees in Atlanta are not forced to choose between their health and a paycheck.
The Smoke-free ATL campaign garnered support from both grassroots volunteers and top health leaders. Volunteers sent petitions to Council Members, attended committee meetings and votes, and spread the word throughout Atlanta about the health and economic benefits of smoke-free laws. Gary Reedy, CEO of ACS CAN and the American Cancer Society (ACS), strongly vocalized his opinion that it's time for Atlanta – home to both the Centers for Disease Control and Prevention (CDC) and ACS' Global Headquarters – to adopt a smoke-free ordinance. Just last week, three top former U.S. public health leaders wrote an op-ed in the Atlanta Journal Constitution calling on the City Council to pass the smoke-free ordinance.
It was this unique combination of efforts that culminated in a successful campaign. This is a long-awaited win, and one that would not have been possible without the tireless commitment of the ACS CAN Georgia team and our volunteers.
The ordinance now goes to Atlanta Mayor Keisha Bottoms' desk for signing, and ACS CAN will continue to engage with volunteers and partners to urge the mayor to sign this law. I will be thrilled to celebrate with ACS CAN advocates when Atlanta is, finally, smoke-free.