ACS CAN President Lisa Lacasse shares her views on the impact of advocacy on the cancer fight.
The Next Generation of Cancer Advocates
Younger generations are increasingly becoming involved in the world of public policy to support causes important to them. In fact, the 2019 legislative session included the largest class of millennial-aged lawmakers in state and local offices, and the 116th Congress included a record number of millennials, currently ages 18-35.
At the American Cancer Society Cancer Action Network (ACS CAN), we embrace this trend in our own advocacy efforts. ACS CAN prioritizes engaging volunteers that represent diverse populations, and one specific strategy is to actively engage students, teens and young adults nationwide to support our mission to fight cancer through public policy advocacy. In fact, we proudly welcome Gen2End ambassadors (millennial-aged ACS CAN volunteers) and Gates Millennium Scholars (students and recent graduates from a prestigious scholarship program) at our annual Leadership Summit & Lobby Day event in Washington, D.C. These younger advocates bring a unique, passionate perspective to our campaigns as well as firsthand experience with the cancer-related policy issues that directly affect them, their families and their communities.
We've seen the incredible benefits of engaging advocates of all ages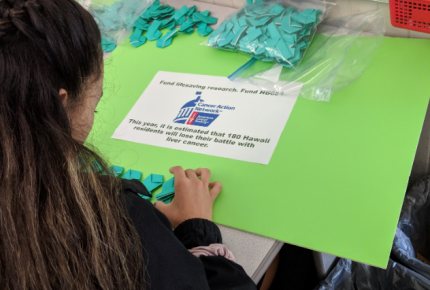 in our efforts, as their different experiences and perspectives are critical to our fight:
College sophomore and ACS CAN Nebraska volunteer Paige Grogan bravely shared her experience as a skin cancer survivor to support legislation that would prohibit minors from using tanning beds. During a hearing before the Health and Human Services Committee in January, Paige urged lawmakers to protect other Nebraska youth like herself from the increased risks of skin cancer associated with indoor tanning.
For the second year in a row, students from a ninth-grade health class joined our Hawaii team to support their grassroots efforts around Cancer Awareness Day in March. The students spent the day with ACS CAN staff, learning about Hawaii's state legislative priorities and creating posters for volunteers to use at their next event.
Developing connections with local schools and teachers has proven a successful way to provide opportunities for youth involvement in our work: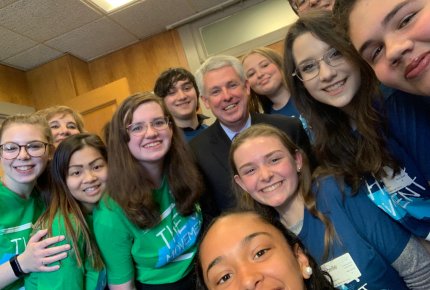 The ACS CAN Maine team connected with a middle school health teacher wanting to educate her students about the dangerous health effects of tobacco products. Building on a letter-writing campaign from students to their lawmakers about the impact of tobacco use in their school and a panel presentation to health experts and lawmakers about e-cigarette use among their classmates, this year the group advocated side-by-side with ACS CAN staff at their Day at the Capitol event in Augusta.
In Nevada, more than 200 students from the Las Vegas School District attended a teleconference hearing in support of legislation to strengthen the state's tobacco control laws. One student testified before the committee, sharing a box of electronic smoking devices that had been confiscated from his own school, providing a first-hand experience to lawmakers as to why the proposed laws are critical.
Each year, ACS CAN leverages Kick Butts Day, organized by our public health partner, the Campaign for Tobacco-Free Kids, to encourage youth to raise awareness of tobacco use in their schools and communities, to advocate for proven tobacco control public health policies:
In Kansas, more than 100 middle and high school students joined ACS CAN advocates at the statehouse and met with nearly 50 lawmakers. They provided education about youth tobacco use in their communities and discussed policy interventions to address the issue. The students were recognized by a representative on the Kansas House floor for their efforts.
More than 200 Massachusetts high school students joined the ACS CAN team on Kick Butts Day, sharing with lawmakers examples of how Big Tobacco targets them and their peers and urging them to support policies to reduce the prevalence of tobacco use in their schools, including an increased tobacco tax and tobacco control program funding.
It's exciting to see teens and young adults passionately involved in the causes they care about, and especially to watch them actively support ACS CAN's advocacy efforts and our cancer mission. Engaging advocates of all ages is a key factor in our success. As our future leaders and policymakers, this generation has made it clear that they recognize the power of advocacy and are committed to enacting change through public policy. ACS CAN will continue to prioritize engaging youth in our mission to address the burden of cancer nationwide.