ACS CAN President Lisa Lacasse shares her views on the impact of advocacy on the cancer fight.
Measuring State Progress in Our Fight Against Cancer
Our ability to eliminate death and suffering from cancer relies on advancing strong cancer-fighting public health policies in every state in our country. State and local lawmakers have the potential – and responsibility – to implement policies proven to reduce the cancer burden, and our annual How Do You Measure Up? A Progress Report on State Legislative Activity to Reduce Cancer Incidence and Mortality, released today, measures state efforts to pass policy solutions that will save lives from cancer.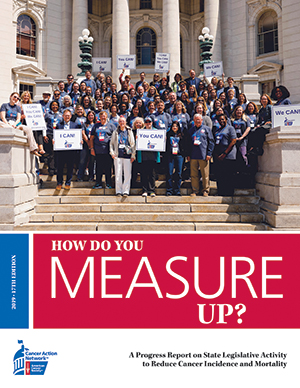 I look forward to the release of this report every summer. For me, it's both an acknowledgement of the many noteworthy public health victories achieved by patient advocates and policymakers throughout the country, and a roadmap of critical steps lawmakers must take as they work to pass legislative and regulatory solutions proven to impact the cancer burden in their states.
Now in its 17th year, the report rates all 50 states, the District of Columbia and U.S. territories on eight policy issues that critically impact cancer incidence and death in the United States:
Increased Access to Medicaid
Access to Palliative Care
Balanced Pain Policy
Cigarette Excise Tax Rates
Smoke-free Laws
Tobacco Control Program Funding
Medicaid Coverage of Tobacco Cessation Services
Laws that Prohibit Minors from Using Indoor Tanning Devices
How Do You Measure Up? uses a color-coded system to classify how well a state is doing in each legislative priority issue; green indicates that a state has adopted evidence-based policies and best practices; yellow indicates moderate movement toward the benchmark; and red shows where states are falling short on cancer-fighting legislation. This year's report finds that three states – California, Massachusetts and Maine – met green benchmarks in six of the eight legislative priority areas. Unfortunately, 18 states are falling behind and reached the green benchmarks in only two of the eight categories, showing lawmakers can do more in their commitment to fighting cancer.
In addition to rating states on policy issues central to the fight against cancer, the report also highlights success stories and missed opportunities from different states. I'm so proud to read about how the ACS CAN Illinois team was instrumental this year in convincing the legislature to support a $1 per pack cigarette tax increase, and how Wyoming policymakers listened to the concerns of ACS CAN advocates and decided to protect funding for the breast and cervical cancer treatment program in the state's Medicaid program. At the same time, the missed opportunities, such as the Utah legislature undermining the will of state residents and reversing the voter-approved proposition to expand eligibility for the state's Medicaid program, remind us that we still have much work to do in fighting this disease.
This year's Hanging in the Balance special section takes a deeper dive into an emerging policy trend seen in states across the country: Big Tobacco co-opting efforts to raise the tobacco age of sale to 21 by inserting loopholes and exemptions that weaken the legislation. This dangerous trend comes as we face an epidemic of youth e-cigarette use. It's a fascinating look into the tobacco's industry strategy to publicly support weak tobacco 21 policies that are not proven to effectively protect youth, and emphasizes why lawmakers must ensure the tobacco control laws they pass are designed to protect children from deadly tobacco products, not to protect industry profits.
Our annual HDYMU report is a reminder to all state and local legislators that the decisions they make can be the difference between life and death for state residents – those already dealing with cancer and everyone at risk of developing the disease. I'm hopeful that by seeing their state's ratings in this year's report, lawmakers will renew their commitment to our fight and take action on the policy recommendations set forth in HDYMU. ACS CAN staff and volunteers are ready to work with all state elected officials and those who impact important public policy  to build a healthier, cancer-free future in every state.
Learn how your state is doing in the fight against cancer at fightcancer.org/measure.