ACS CAN President Lisa Lacasse shares her views on the impact of advocacy on the cancer fight.
Leadership Summit & Lobby Day: Cancer Advocates Bring Their Stories to D.C.
I keep saying it, but I can't quite believe this is my 12th Leadership Summit & Lobby Day. Each year brings fresh energy, new faces and a renewed commitment to carrying our mission forward. This year – the first in my role as ACS CAN president – is no exception. I couldn't be more excited to welcome each volunteer and thank them for their role in making ACS CAN the leading patient voice in cancer advocacy. Even after more than a decade with ACS CAN, I still marvel time and again at the relentless dedication our volunteers have to our mission. I've seen the significant, tangible impact that our advocates make as they fight cancer through public policy, and they're bringing that impact to D.C. this week.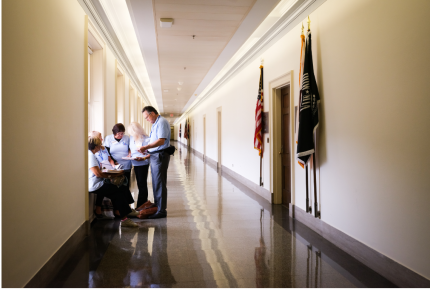 That's not all they're bringing. They'll pack their signature blue polos so lawmakers can spot them across Capitol Hill and know they're here to make cancer a priority. Most importantly, they're bringing their stories to D.C. It's those stories – so full of passion, emotion and a true understanding of the toll cancer takes on us – that will most resonant with their lawmakers and leave a lasting impression.
On Sunday, we'll have the opportunity to recognize some outstanding staff members and volunteers who've gone above and beyond this year in their advocacy work; one of my favorite nights, since our advocates work tirelessly and without expecting a pat on the back, but they're so deserving of it.
I look forward to hearing from Health and Human Services (HHS) Secretary Alex Azar on Monday. Secretary Azar oversees the agency with authority over the National Institutes of Health, Medicare, Medicaid, the Centers for Disease Control and Prevention and the Food and Drug Administration, all of which play a critical role in our fight against cancer.
After a kickoff rally hosted by NCAA Division I basketball coaches Tuesday morning, it's off to the Hill. Our volunteers have hundreds of meetings with members of Congress on Tuesday, each to ask for their commitment to increase funding for cancer research; support legislation to improve quality of life; close a Medicare loophole that results in surprise costs for seniors during colonoscopies; and reverse the growing epidemic of youth tobacco use, including e-cigarettes, by restricting flavored tobacco products.
Tuesday evening will culminate with our Lights of Hope ceremony at the Lincoln Memorial. After a full day spent making cancer a legislative priority, seeing the more than 40,000 lights representing those touched by cancer is always an emotional and memorable event.
On Wednesday, we have the perfect close to Leadership Summit & Lobby Day: Marcia Cross, actress, cancer survivor and longtime ACS CAN ally will speak to our advocates about her journey as a survivor and why she's so committed to sparking conversation about cancer prevention and early detection.
I can't wait to look out across the room full of our volunteer leaders and feel their power, energy and enthusiasm as they bring our mission to the halls of Congress.