ACS CAN President Lisa Lacasse shares her views on the impact of advocacy on the cancer fight.
Guest Post: My Commitment to Patient Advocacy
It's my pleasure to feature Sandra Cassese, MSN, RN, CNS, the Chair of ACS CAN Board of Directors, on my Cancer CANdor Blog. Read on to learn about Sandi's dedication to our mission and why she's so driven to volunteer in our fight against cancer.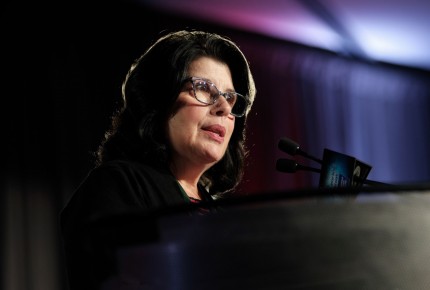 For the 18th year in a row, nursing ranks as the most trusted profession in America. As a registered nurse and clinical nurse specialist, I've always understood that I have a duty to protect my patients and advocate for them in an upright and truthful way, a responsibility that I do not take lightly. I bring that same sense of responsibility to my role as the new Chair of the ACS CAN Board of Directors. I can say with confidence that beyond the patients, families and caregivers that I work with every day, I also have a responsibility to share my voice and expertise with elected officials on behalf of cancer patients. Sharing my story and offering honest, evidence-based suggestions builds the trusting relationship with lawmakers and policymakers that is essential as we seek to achieve a world free from the pain and suffering of cancer. 
That drive to enact change in the fight against cancer has been a constant throughout my long tenure as a volunteer with ACS CAN. In the strictest sense of the word, volunteerism is just as it sounds – freely offering your time and skills to benefit others, not yourself. However, I view my volunteer experience a little differently. I believe that I am compelled to speak up for those who cannot speak for themselves, and I do personally benefit by being part of a group of determined people who have an immense track record of accomplishments impacting the fight against cancer. Each time ACS CAN influences passage of a law or public policy benefiting families affected by cancer, I feel as if I've won the lottery and it motivates me to advocate even more.
When I started my journey as an ACS CAN volunteer, I'd already been involved with the American Cancer Society for more than 30 years. Never did I dream that one day I'd serve as Chair of the organization that has become so much a part of my identity. I consider my primary role as the new ACS CAN Board Chair is to guide and encourage our nationwide army of grassroots volunteers as they advance federal, state and local campaigns aimed at improving the lives of cancer patients, survivors and their families. Our Board is comprised of incredibly accomplished individuals who lend their viewpoints and expertise to our mission. It's a pleasure to serve alongside these successful advocates, as well as partner with ACS CAN staff and volunteers across the country.
In addition to serving as a legislative ambassador, being a fundraising ambassador is also a priority as one of the major responsibilities of our non-profit board. Simply, more money means more lives saved.  There's so much to accomplish, and additional resources means ACS CAN is able to act deftly, advocating at all levels of government and remaining the trusted source of information on evidence-based public policies so important to our cancer
I hope that my impact as Board Chair will be far-reaching and result in measurable growth and positive outcomes for ACS CAN's advocacy efforts. I look forward to helping to lead our organization in our mission of ending suffering and death from cancer and making cancer a priority for our elected officials nationwide. Join us in our fight against this disease.