ACS CAN Missouri 2019 State Legislative Priorities
2019 Missouri
 Legislative Priorities
Victory in the fight against cancer requires public policies that promote cancer prevention, early detection of cancer, and expand access to quality, affordable health care. Lawmakers make many decisions that impact the lives of Missourians touched by cancer and their leadership is vital to defeating this disease. In 2019, the American Cancer Society Cancer Action Network (ACS CAN) will work with the Missouri General Assembly in support of the following priorities:
 
Skin Cancer Prevention
Indoor Tanning Devices: Skin cancer is the most common type of cancer in the United States, with melanoma as one of the most common cancers diagnosed among young adults. The use of indoor tanning devices has been directly linked to an increase in skin cancer. Research has proven that use of indoor tanning facilities before the age of 35 increases the risk for melanoma by 59 percent. ACS CAN will advocate for a state law to prohibit the use of indoor tanning devices by those under the age of 18, ensure all consumers are properly informed of their risk prior to use with effective enforcement provisions in place. 
Cancer Prevention and Early Detection
Breast and Cervical Cancer: Show Me Healthy Women, the state breast and cervical cancer screening and treatment program for low-income uninsured and underinsured women administered by the Missouri Department of Health and Senior Services, provides free pap tests to women aged 35 to 64 and mammograms to women aged 50 to 64 who are low-income and uninsured.  ACS CAN will advocate to maintain state general revenue funding of $500,000.
Reducing the Toll of Tobacco
Tobacco Prevention and Cessation Funding:  Tobacco use is responsible for almost one third of cancer deaths and it claims the lives of 11,000 Missourians each year and causes $3.03 billion anually in direct health care costs. Comprehensive tobacco prevention programs prevent youth smoking, help smokers quit and ultimately save lives and money.  Unfortunately, Missouri ranks at the bottom in terms of state funding for tobacco prevention and cessation.  ACS CAN will work to fund and sustain evidence-based, statewide tobacco use prevention and cessation programs.
For more information, contact: Emily Kalmer, Missouri Government Relations Director ACS CAN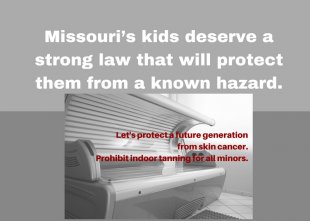 Let's protect a future generation from melanoma and other skin cancers by prohibiting minors from using indoor tanning devices. The evidence is clear: People using tanning beds before the age of 35 increase their risk of melanoma by 59% Over 30% of 12th grade girls and over 20% of 11th