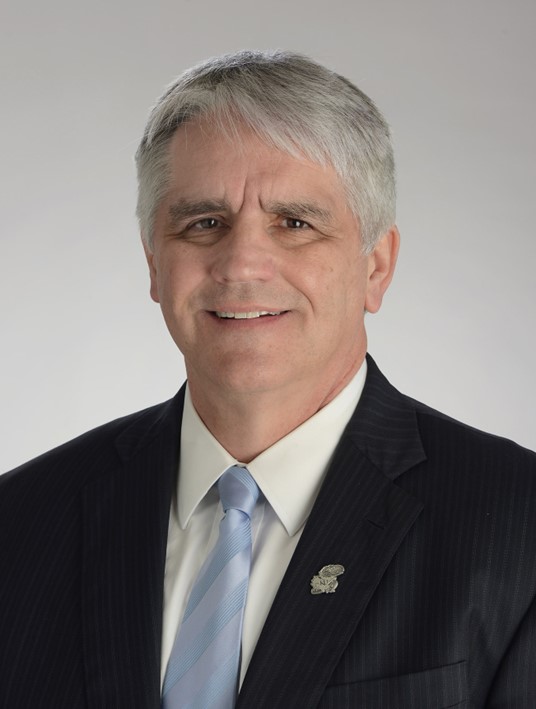 Roy Jensen, MD was appointed director of The University of Kansas Cancer Center in 2004. Since that time, he has recruited a world-class leadership team. With his guidance and a broad-based university, community and regional effort, The University of Kansas Cancer Center achieved National Cancer Institute comprehensive designation in July 2022. It is the NCI's most elite level of designation. The cancer center is currently 1 of 53 NCI-designated comprehensive cancer centers across the country.
Dr. Jensen is currently Professor of Pathology and Laboratory Medicine, Professor of Anatomy and Cell Biology, Professor of Cancer Biology, and the William R. Jewell, M.D. Distinguished Kansas Masonic Professor, at the University of Kansas Medical Center. Prior to his appointment at Kansas, Jensen was a member of the Vanderbilt-Ingram Cancer Center and a faculty member in Pathology, Cell Biology, and Cancer Biology for 13 years.
Dr. Jensen graduated from Vanderbilt University School of Medicine in 1984 and remained there to complete a residency in Anatomic Pathology and a Surgical Pathology fellowship with Dr. David Page. Following his clinical training he accepted a postdoctoral fellowship at the National Cancer Institute in the laboratory of Dr. Stuart Aaronson. After joining the faculty at Vanderbilt University, Dr. Jensen's research interests focused on understanding the function of BRCA1 and BRCA2 and their role in breast neoplasia; and in the characterization of premalignant breast disease at both the morphologic and molecular levels. He currently has over 150 scientific publications and has lectured widely on the clinical and molecular aspects of breast cancer pathology.
Dr. Jensen has served on numerous grant review panels, study sections, and site visit teams for the NIH, the Department of Defense-Breast Cancer Research Program, the Medical Research Council of Canada, the California Breast Cancer Research Program, the Susan G. Komen Breast Cancer Foundation and the Federation of American Societies for Experimental Biology. Jensen serves on the Science Policy and Governmental Affairs Committees for the American Association for Cancer Research (AACR) and is a member of the AACR Pathology Task Force, AACR Publications Committee and the AACR Nominating Committee. He served as a member of the Science Policy Working Group of the American Society for Investigative Pathology and co-chaired the research committee for C-Change. In 2013, he was elected to the Board of Directors for the Association of American Cancer Institutes (AACI) and served as the president of AACI from 2018-2020. Jensen was chair of NCI's Subcommittee A from 2018-2020 and also served on the Director's Working Group for the Board of Scientific Advisors to the National Cancer Institute. Finally, he is the Chair of the University of Oklahoma Stephenson Cancer Center External Advisory Board.