ACS CAN Advocacy Accomplishments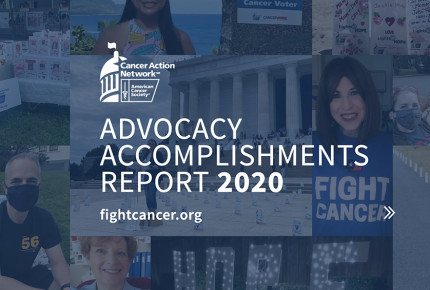 ACS CAN's volunteers and staff are critical to our success in fighting for public policies that will benefit cancer patients and their loved ones. Our 2020 Report showcases the significant impact our advocates achieved through legislative and regulatory successes at every level of government, both despite of and in response to the public health and economic crises caused by the COVID-19 pandemic. Now, more than ever, your support allows us to help save more lives from cancer by advocating for policies that sustain investments in cancer research, fund programs that detect cancer at its earliest, most treatable stages, increase access to affordable health care, and reduce health disparities.
 
Thank you to everyone for your support in helping us to advance our mission of making cancer a top national priority.
View the Advocacy Accomplishments report
View the 2020 Impact Infographic in English
View the 2020 Impact Infographic in Spanish
---
IRS Form 990s
The Internal Revenue Service (IRS) Form 990 is an annual federal informational return that most nonprofit organizations are required to file. The information in the Form 990s is provided in accordance with IRS regulations. 
ACS CAN Form 990 FY2020
For Fiscal Year 20 Ending December 31, 2020
ACS CAN Form 990 FY2019
For Fiscal Year 19 Ending December 31, 2019
ACS CAN Form 990 FY2018
For Fiscal Year 18 Ending December 31, 2018
ACS CAN Form 990 FY2017
For Fiscal Year 17 Ending December 31, 2017
ACS CAN Form 990 FY2016
For Fiscal Year 16 Ending December 31, 2016
---
Financial Statements
Available below are the Financial Statements of the American Cancer Society Cancer Action Network, Inc. These financial statements provide the most meaningful financial information as they are presented in accordance with generally accepted accounting principles.