Powerful Tribute to Nevada Cancer Patients and Survivors Sends Message to State and National Lawmakers
LAS VEGAS, NEV. – August 30, 2023 - Volunteers with the American Cancer Society Cancer Action Network (ACS CAN) held a 'Lights of Hope' ceremony near the Welcome to Fabulous Las Vegas Sign, Wednesday evening. The powerful visual display included dozens of lit bags to honor and remember loved ones affected by cancer.  Each bag included the name of a Nevadan who has fought cancer.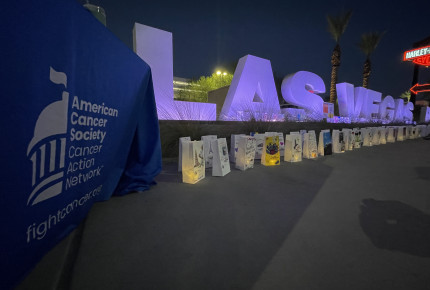 The display served as a reminder to Nevada state and national lawmakers on the importance of fighting cancer. More than 17,000 Nevadans are expected to be diagnosed with cancer this year, with more than 5,800 expected to die from the disease. 
"The Lights of Hope display is a tribute to the Nevadans who've been impacted by this horrible disease," said Deidra Hamilton, ACS CAN Nevada volunteer. "Funding detection, prevention, and treatment must be a priority for Nevada lawmakers in order to prevent more lives lost." Hamilton survived retinoblastoma (eye cancer) after being diagnosed as a toddler.  
Several volunteers, including Hamilton, will represent Nevada at ACS CAN's signature 'Lights of Hope' display in Washington, D.C. on September 19th. The national event features tens-of-thousands lit bags on display near the Washington Monument at the Constitution Gardens. Beforehand, the group will meet with and ask lawmakers to support a bill which would waive out-of-pocket costs for individuals with the highest risk of prostate cancer. This includes Black men and those with a family history of the disease. 
Additionally, lawmakers will be asked members to support legislation to create a pathway for Medicare to cover new multi-cancer early detection tests once they are approved by the Food and Drug Administration (FDA) and proven effective. 
More Press Releases About
Sr. Regional Media Advocacy Manager