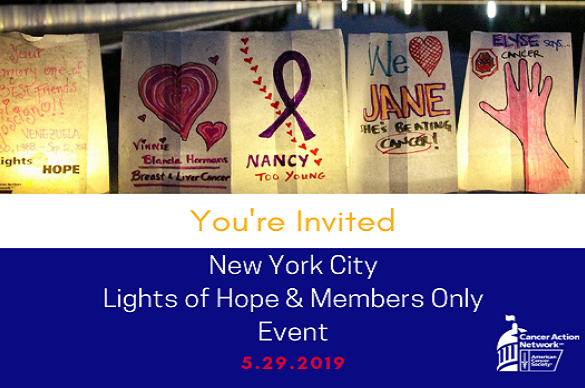 NY: NYC Lights of Hope and Members' Only Happy Hour
Wednesday, May 29, 2019 - 3:00pm
The American Cancer Society Cancer Action Network (ACS CAN) will be honoring those who have been touched by cancer and remembering those lost, with a Lights of Hope ceremony on the steps of New York's City Hall on May 29th. 
Lights of Hope bearing the names of those touched by cancer and representing the number of New Yorkers who lost their cancer battle every week will line the City Hall's steps to fight back against cancer. You have a unique opportunity to participate by making a contribution to honor or remember a loved one with a Light of HOPE.  
Immediately following the Lights of Hope display, ACS CAN members are invited to attend a Members only Happy Hour at Manhattan Proper (6 Murray Street, New York, NY) which will include a cash bar & complimentary light bites. 
For questions, or get more involved with this special event, please contact [email protected].
Contributions or membership payments to the American Cancer Society Cancer Action Network, Inc. are not tax deductible.