Tips for using Zoom, FaceTme and other tools to connect with your Junior Cancer Fighter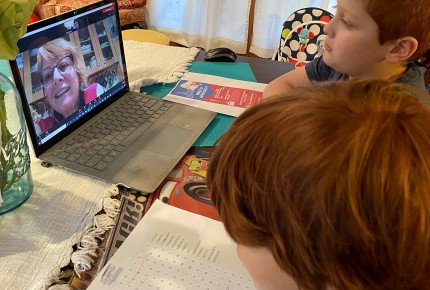 Missing your grandkids? Or perhaps your niece, nephew or another special kid in your life?
The Junior Cancer Fighter action center is a great opportunity to spend time virtually with the kids in your life you may be apart from right now. You can use the resources in the action center to educate them about cancer, advocacy and what volunteers can do to help fight back against this disease. 
Opportunities include:
Use the "What is Cancer?" to explain cancer to young kids and talk about your cancer story, or why you are a cancer advocate. 
Use the resources that talk about cancer advocacy to share your ACS CAN volunteer experiences.
Watch the videos "together."
Print out the coloring pages and color together.
When your Junior Cancer Fighter completes theaction center, you can "present" him or her with their Junior Cancer Fighter certificate!
You can do all of this via Zoom, FaceTime or Skype  – whichever video service you're most comfortable using – for free. If you're not already using one of these services, here are a few videos that show you how to get set up.
How to Host a Zoom Call for the First Time