Almost 700 cancer advocates are headed to the nation's capital to make cancer a national priority
This September, almost 700 cancer advocates will arrive in Washington, D.C. to participate in ACS CAN's annual Leadership Summit and Lobby Day, a four-day event where volunteers meet with their congressional delegation to advocate for important cancer issues. But the event is also an all-encompassing opportunity for volunteers to learn, share and grow together as they help make cancer a national priority.  
On Sunday, ACS CAN hosts the Advocacy Leadership Awards to recognize national, international, and state-level leaders and organizations who have demonstrated outstanding support of ACS and ACS CAN's shared mission to end cancer as we know it, for everyone. 
Monday is the Leadership Summit, where volunteers learn more about how they can use their voices to impact change. They attend sessions with leaders in the field to understand how federal legislation impacts the cancer burden in their communities, as well as smaller breakout sessions based on their interests, from   utilizing media for storytelling to emerging issues in the cancer space. To prepare for their lawmaker meetings, volunteers also get together and practice their meeting scripts, . coached by ACS CAN experts on the meeting format and legislative asks so they can walk into these meetings confidently.  
Lobby Day, on Tuesday, is a sight to behold. All the volunteers wear their signature ACS CAN blue shirts (pictured here).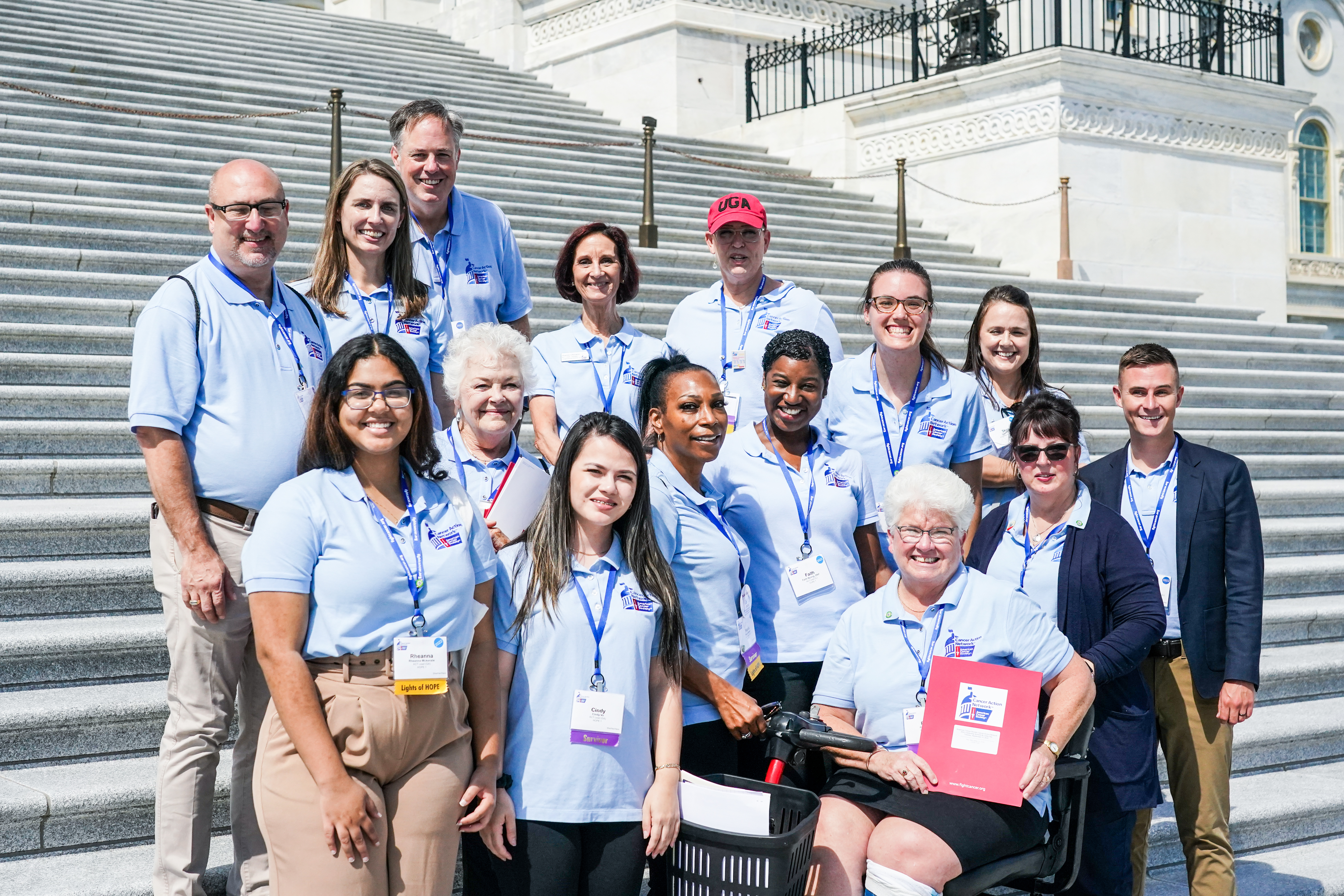 Imagine it —hundreds of passionate advocates descending onto Capitol Hill, ready to engage their lawmakers about how cancer has personally impacted their lives. The energy is absolutely electric. 
So what will they discuss with their lawmakers? In 2023, they will ask Congress to: 
Increase funding for cancer research and prevention by supporting the highest possible increases for cancer research and prevention programs in the FY24 funding bill. ACS CAN requests: 

$51 billion for the National Institutes of Health (NIH), including $9.988 billion for cancer research at the National Cancer Institute (NCI) 
$1.5 billion for the Advanced Research Projects Agency for Health (ARPA-H) 
$472.4 million for the Centers for Disease Control and Prevention's (CDC) cancer programs, including $230 million for the National Breast and Cervical Cancer Early Detection Program 

Accelerate coverage of cancer screening tests by co-sponsoring the Medicare Multi-Cancer Early Detection Screening Coverage Act 

Reduce barriers to prostate cancer screening by co-sponsoring the Prostate-Specific Antigen Screening for High-risk Insured Men Act (PSA Screening for HIM Act) 
"One of the real pleasures of being part of this event is watching the transformation of our volunteers as they gain experience with legislative meetings," says Jeff Martin, ACS CAN Vice President of Grassroots Advocacy. "There are numerous examples of this through the years that many of us could share, and it's a real point of pride for our team. Of course, as volunteers gain this experience, they also gain confidence. This makes the meetings better and our organization stronger each time we go up to the Hill!"  
Lobby Day culminates with the Lights of Hope ceremony on Tuesday evening, where nearly 10,000 lights will be displayed at Constitution Gardens to honor those who have been touched by cancer and remember those we've lost. 
Before returning to their hometowns, on Wednesday, volunteers recap their meetings on Capitol Hill and convene with their regions to begin planning the next steps for engaging their lawmakers on important cancer issues. As volunteers become stronger cancer advocates, the stronger their impact becomes in the fight against cancer. Although Leadership Summit and Lobby Day is an in-person event, there are opportunities to participate from home! Please send a message to your member of Congress for ACS CAN's legislative asks. You can also follow along on social media with the hashtags #CancerLobbyDay and #LightsOfHope, and via the live social media wall. Your participation can help make this week even more impactful in the fight against cancer.