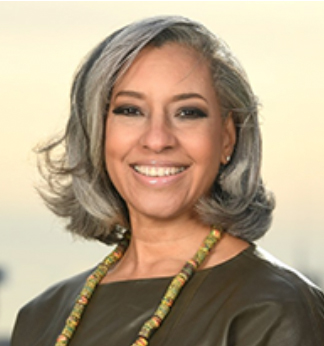 Dr. Kimberly L. Jeffries Leonard is a member of the ACS CAN Board of Directors. She is currently the 17th National President of The Links, Incorporated and The Links Foundation, Incorporated.
Dr. Jeffries Leonard serves as President and CEO of Envision Consulting, LLC, a boutique public health consulting firm specializing in strategic and innovative executive level solutions for public, private and government entities, including strategic planning, program design and implementation, and program/systems assessment and evaluation.  Most recently, Dr. Jeffries Leonard was appointed Chair of the Commission on African American Affairs by Washington, D.C. Mayor, Muriel Bowser. Prior to launching her own business, she held various executive level positions within the Washington, D.C. public health sector, including federal, private and local government entities.
Dr. Jeffries Leonard has over 30 years of applied health and behavioral medicine research, evaluation, and technical assistance and training experience specializing in health promotion and disease prevention. Her broad background in public health includes expertise in minority and women's health, and behavioral health programs, policies and related legislation; with subject matter expertise in substance abuse, HIV/AIDS, cardiovascular disease, health disparities, tribal issues and reentry. She has served as spokeswoman for federal and state government initiatives and a number of organizations with interests related to public health. As the former national vice-president of The Links Incorporated, she was instrumental in negotiating a national partnership with the American Cancer Society to address the disproportionate burden of cancer in diverse communities.
Dr. Jeffries Leonard earned a Doctor of Philosophy degree in Psychology from Howard University, a Master of Science degree in Psychology from North Carolina Central University and Bachelor of Science degree in Psychology from Fayetteville State University. She completed a National Institutes of Minority Health pre-doctoral fellowship at The George Washington University Medical School, Department of Psychiatry and Behavioral Sciences examining chronic disease and family systems; a National Heart, Lung and Blood Institute post-doctoral fellowship at the Howard University Cancer Center, Division of Epidemiology and Biostatistics studying cardiovascular and cancer epidemiology; and a Graduate Summer Program in Epidemiology at Johns Hopkins University School of Hygiene and Public Health.
Dr. Jeffries Leonard is the recipient of numerous honors, awards and recognitions, including the National Association for Equal Opportunity in Higher Education (NAFEO) Alumni of the Year Award from her alma mater, Fayetteville State University, AARP "African American Change Maker" and National Health Leader, the Women in Excellence Reaching Higher Award by the Afro American Newspaper and the Chancellor's Medallion, Fayetteville State's highest honor bestowed on an Alum. Dr. Leonard's extensive community service includes Vice President of Administration and member of the Board of Directors of the Black Women's Agenda, Inc., an active member of Alpha Kappa Alpha Sorority, Incorporated, a member of the Washington DC chapter of Jack and Jill of America and a ruling Elder at 15th Street Presbyterian Church in Washington, DC. A native of Fayetteville, North Carolina, Dr. Jeffries Leonard is married to DC FEMS Battalion Fire Chief (Retired) Stephen V. Leonard and they are the proud parents of two sons, Victor and Alexander.