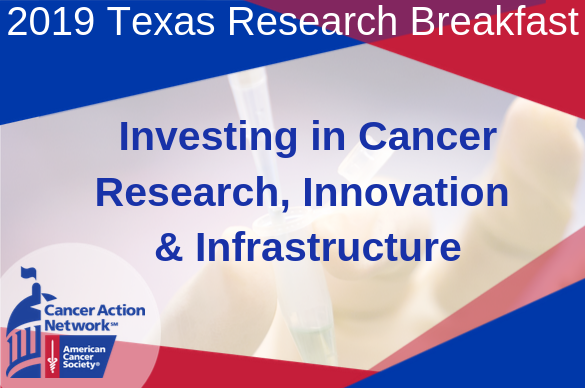 Texas Research Breakfast
Wednesday, October 23, 2019 -

7:00am

to

9:00am
The statistics are startling—1 in 3 individuals in the U.S. will be diagnosed with cancer in their lifetime. Support ACS CAN's efforts to ensure the next scientific breakthroughs happen sooner rather than later – and that those breakthroughs reach those who need them!
The American Cancer Society Cancer Action Network (ACS CAN) is the nation's leading advocacy organization working every day to make issues facing cancer patients a national and state priority.
 
The ACS CAN Texas Research Breakfast is a premiere event that will bring together leaders from business, academia, health care, government, and life sciences to highlight Texas' impressive role behind the latest advances in cancer research – and to support the mission of ACS CAN.
 
Translating Action Into Influence – Conquering cancer is as much a matter of public policy as it is scientific discovery. With Texans' commitment of $3 billion in funding for cancer research and prevention just over a decade ago, the past ten years have seen significant improvements in the way we diagnose and treat cancer but our work is far from over. Whether it is increasing cancer research and prevention funding or improving access to health coverage, ACS CAN protects the needs of patients and families, working to ensure that our innovation ecosystem remains strong and everyone has the affordable access to care they need to prevent, detect, and fight cancer.

Contributions or membership payments to the American Cancer Society Cancer Action Network, Inc. are not tax-deductible.