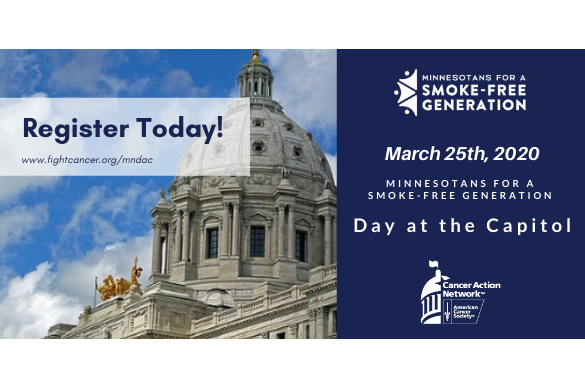 Cancelled: 2020 Minnesotans for a Smoke-Free Generation Coalition Day at the Capitol
Monday, March 23, 2020 (All day)

to

Friday, March 27, 2020 (All day)
In an abundance of caution and the interest of protecting the health of our volunteers, we've made the difficult decision to cancel this year's Minnesotan's for a Smoke-free Day at the Capitol event on March 25th.
Due to the unpredictability and dynamic nature of coronavirus and the elevated risk for those with compromised immune systems, we feel that this is the most appropriate course of action for us to take at this time. We apologize for the short notice and appreciate your understanding as we work to minimize the health risk for volunteers and staff.
We are so grateful for your willingness and dedication to making cancer a priority for your lawmakers and we are committed to finding alternate ways to share your stories and continue to create impact at the capitol this legislative session.
ACS CAN and partners will be hosting a "Week of Action" later in session to make sure lawmakers still hear why you care about fighting back against Big Tobacco and youth tobacco addiction.
If you have any questions, please contact Britta Babel, Minnesota Grassroots Manager, at [email protected] .