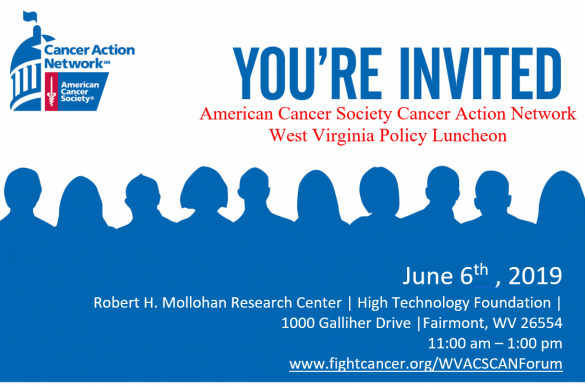 American Cancer Society Cancer Action Network West Virginia Policy Luncheon
Thursday, June 6, 2019 -

11:00am

to

1:00pm
Robert H. Mollohan Research Center | High Technology Foundation
In June 2019, the American Cancer Society Cancer Action Network (ACS CAN) will be hosting a policy luncheon in North Central West Virginia.  This event will bring together key leaders and decision makers in government, business, research and academia to highlight the latest advances in cancer research in West Virginia.
Conquering cancer is as much a matter of public policy as it is a scientific discovery. Whether it is advancing prevention and early detection, increasing cancer research funding, enhancing quality of life from diagnosis to survivorship, and improving access to health coverage, ACS CAN protects the needs of patients and families, working to ensure that everyone has access to the care they need to prevent, detect and fight cancer.
Cancer research advancements offer hope to the millions of people who face cancer, that's why it is so important that the National Cancer Institute (NCI) and National Institute of Health (NIH) continue to receive the government investment that they need to support life-saving research projects.
THANK YOU TO OUR SPONSORS: