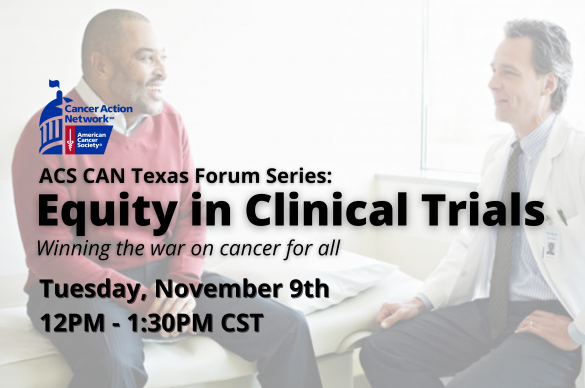 ACS CAN Texas Policy Forum Series: Equity in Clinical Trials
Tuesday, November 9, 2021 -

12:00pm

to

1:30pm
CST
Winning the war on cancer for all
In this continuation of ACS CAN Texas's policy forum series, we will examine the importance of cancer clinical trials and the key barriers preventing patient participation, including a focus on equity,
Participants will include key stakeholders throughout the oncology community, including leaders in life sciences, health care systems, academia, provider groups, patient advocacy, public policy, business, and others.
ACS CAN will use this event to illustrate and explore the following:
• Are current eligibility criteria preventing willing patients from enrolling in trials? What still needs to be done?
• What role do healthcare institutions play in clinical trial enrollment and success?
• What improvements need to be made so that disparate populations have access to clinical trials?
• What is the long-term impact of COVD-19 on clinical trials?
• How do everyday issues, such as location, transportation, childcare affect access for patients to potential new treatments through clinical trials?
Thank You to our generous sponsors:
Gold Sponsors
Bronze Sponsors
National Partners
Special thanks to Astellas Pharma Inc.
For more information on sponsorship opportunities, please contact [email protected]