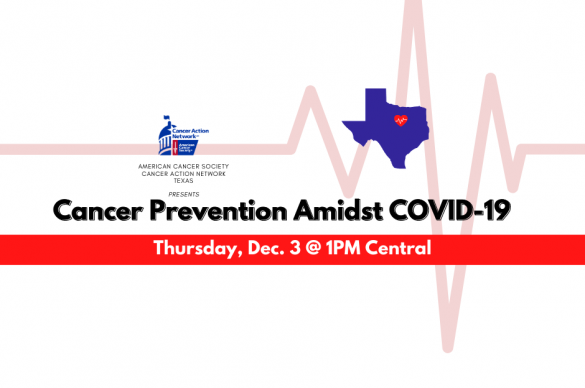 ACS CAN Texas Forum Series: Cancer Prevention Amidst COVID-19
Thursday, December 3, 2020 - 1:00pm
CST
http://acscan.windrosemedia.com/
ACS CAN Texas Forum Series: Cancer Prevention Amidst COVID-19
CANCER HASN'T STOPPED. So neither have we.  COVID-19 created a complete disruption to lives around the globe, and none perhaps more significantly than those in need of medical care.  With the restrictions of care to essential services only, countless individuals found themselves without access to needed screening and treatment for cancer. 
We know delays mean later stage disease and more costly treatment. So, what lies ahead for patients and survivors?  What lies ahead for the future of cancer care?
The American Cancer Society Cancer Action Network (ACS CAN), the advocacy affiliate of the American Cancer Society, will host the third in the annual Texas Policy Forum Series on Thursday, December 3, to bring together community leaders to focus on the impact of COVID-19 on cancer care.  Please plan to join us for this discussion at 1 p.m. (CT) on December 3.
Our speakers include:
Debra Patt, M.D., PhD, MBA
Vice President, Texas Oncology
Jasmin Tiro, Ph.D.
Associate Director of Community Outreach, Engagement, and Equity, Simmons Comprehensive Cancer Center at UT Southwestern Medical Center
Sucharu Chris Prakash, MD
Area Medical Director (Paris, Mount Pleasant, Greenville, Sulphur Springs, Idabel), Texas Oncology
James Gray
American Cancer Society Cancer Action Network
Thank You to our generous sponsors:
Gold Level Sponsors
Silver Level Sponsors
    
Bronze Level Sponsors
For sponsorship opportunities, contact [email protected]