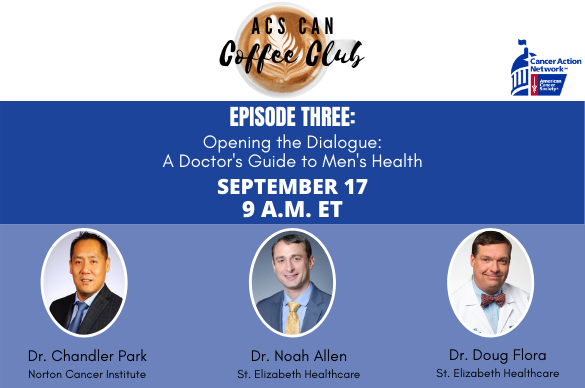 ACS CAN September Coffee Club
Thursday, September 17, 2020 - 9:00am
This will be a virtual event. A link to join will be emailed to all registrants.
Countless lives have been saved because of advances in early detection and treatment of many cancers. As we acknowledge prostate cancer awareness month, ACS CAN Kentucky invites you to a discussion on how we can detect this cancer earlier and improve outcomes for patients. Grab a hot cup of coffee and join us for episode three of the ACS CAN Coffee Club on September 17 at 9:00 a.m. ET. 
This month's conversation, Opening the Dialogue: A Doctor's Guide to Men's Health, will feature an expert panel with Dr. Noah Allen, Urologist at St. Elizabeth Healthcare, and Dr. Chandler Park, Oncologist at Norton Healthcare sharing the latest and greatest strategies for the early detection and treatment of the second most common type of cancer in men. The discussion will be moderated by Dr. Doug Flora, Executive Medical Director of oncology services at St. Elizabeth Healthcare.
The event is free to the public, however donations to ACS CAN are always appreciated. 
You must register to receive the link to join the virtual event. While you're there - be sure to register for the remainder of our 2020 Coffee Club events!