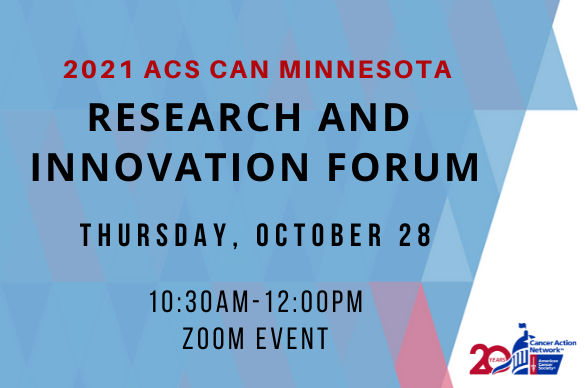 ACS CAN Minnesota Research and Innovation Forum
Thursday, October 28, 2021 -

10:30am

to

12:00pm
CST
The American Cancer Society and the American Cancer Society Cancer Action Network (ACS CAN) have an ambitious goal to achieve a 40% reduction in cancer mortality in the United States by 2035. If we are to achieve that goal, we must fight to achieve health equity, the just and fair opportunity for everyone to prevent, find, treat and survive cancer – regardless of how much money they make, the color of their skin, their sexual orientation, their gender identity, their disability status, or where they live. The October 28 Research and Innovation Forum will discuss what is being done across Minnesota to advance health equity in cancer prevention, treatment, and research.
The ACS CAN Minnesota Research and Innovation Forum is a premier event that brings together leaders from the business, education, medical, government and research communities to advance the work of ACS CAN. The event not only unites those in Minnesota who are fighting to end cancer, it serves to support ACS CAN and its work.
PROGRAM SPEAKERS:
Anthony Bass, Senior Executive Director, Minneapolis, American Cancer Society
Senator Michelle Benson, Chair, Health and Human Services Finance and Policy, Minnesota State Senate
Bukata Hayes, Vice President of Racial and Health Equity, Blue Cross and Blue Shield of Minnesota
Representative Tina Liebling, Chair, Health Finance and Policy Committee, Minnesota House of Representative
Lewis Roberts, M.B., Ch.B., Ph.D., Peter and Frances Georgeson Professor in Gastroenterology Cancer Research, Mayo Clinic
Nneka Sederstrom, Ph.D., MPH, MA, FCCP, FCCM, Chief Health Equity Officer, Hennepin Healthcare
Robert Turesky, Ph.D., Professor of Medicinal Chemistry, Masonic Chair in Cancer Causation, Masonic Cancer Center, University of Minnesota

Luella Williams, Cancer Survivor
KEY HIGHLIGHTS:
Prevention: At least 42% of newly diagnosed cancers in the US are potentially avoidable. Access to cancer screenings, healthy foods, safe and active communities, and commercial tobacco-free living are impacted by interrelated factors including social, economic, cultural, geographic, environmental, and health system elements. What is being done to remove barriers to cancer screenings? What innovative programs exist to increase access to care and shift the focus to prevention?
Treatment: All individuals should have equitable access to the latest quality cancer care. There are notable racial, ethnic, and socioeconomic disparities in access and utilization of groundbreaking treatments and testing. How can we make sure people have access to quality, affordable, and comprehensive care? How can improving access to innovative testing and targeted therapy reduce health disparities and improve patient outcomes?
Research: Research is critical to understanding and reducing cancer disparities, as well as examining gaps in prevention and care delivery that contribute to these disparities. What research is happening to better understand health disparities? How are we working to ensure diverse participation in clinical trials?
DONATIONS & SPONSORSHIP
While this event is free to attend, donations are welcome. Donate to ACS CAN Minnesota. 
Thank you to our event sponsors:

Contributions or membership payments to the American Cancer Society Cancer Action Network are not tax deductible.