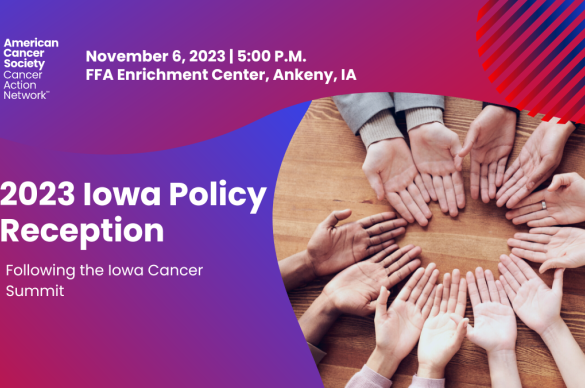 ACS CAN Iowa 2023 Policy Reception
Monday, November 6, 2023 - 5:00pm
CST
1055 SW Prairie Trail Pkwy
The ACS CAN Iowa Policy Recepton is a premier event that will discuss legislative efforts to improve access to cancer care and life-saving treatments in Iowa. 
Join us on Monday, November 6th, following the 2023 Iowa Cancer Summit, to hear from survivors, researchers, public health advocates and legislative leaders about decreasing barriers to care, helping ACS CAN and policy makers set a solution-focused agenda for the upcoming years. 
This year's reception will follow the Iowa Cancer Summit hosted by the Iowa Cancer Consortium. The Iowa Cancer Summit is Iowa's statewide comprehensive cancer control conference. It connects advocates and professionals to network and share promising practices in cancer prevention, screening, treatment, quality of life and health equity. You can register for the Iowa Cancer Summit here. 
The American Cancer Society Cancer Action Network (ACS CAN), the nonprofit, nonpartisan advocacy affiliate of the American Cancer Society, is the nation's leading cancer advocacy organization working every day to make cancer issues a top priority. ACS CAN unites and empowers cancer patients, survivors, caregivers, and their loved ones, giving them the training and tools they need to be heard.
Please consider making a donation in support of ACS CAN Iowa. 
Agenda to come.