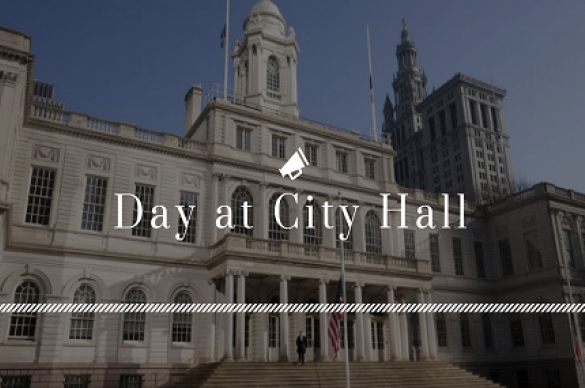 2019 NYC Day at City Hall
Thursday, January 24, 2019 (All day)
Join passionate volunteers from across the five boroughs of New York City for an action-packed day as we converge on city hall to represent our communities in the fight for a world free of cancer. Don't miss out on this incredible opportunity to meet with your city lawmakers and network with other cancer-fighting activists from all over the city.
This year, the American Heart Association will be joining ACS CAN at City Hall for an advocacy day focused on reducing obesity in New York City. We're thrilled to be able to come together to impact the lives of New Yorkers in all corners of NYC and hope that you can join us. 
At the Day at City Hall, ACS CAN, the American Heart Association and other community advocates will advocate for increasing access to affordable, healthy foods in neighborhoods across New York City. Your help is needed to ensure that Mayor de Blasio and the City Council do their part to ensure that all New Yorkers have access to the tools that help support a balanced diet and a healthier life. 
Training & meals will be provided free of charge. No experience is necessary.
Tentative event agenda: 
9:00 am - Check-in, training, and briefing (Office of Manhattan Borough President Gale A. Brewer)
1 Centre Street, 19th Floor, New York, NY 10007)
10:30 am - Walk to 250 Broadway and City Hall
10:00 am-4:00 pm  Council Meetings at 250 Broadway/City Hall
2:00 pm- 2:45 pm    Press Conference outside City Hall (Tentative)
The Day at City Hall is part of a Healthy Neighborhoods Campaign that ACS CAN is launching in 2019. To learn more about the campaign and get involved please visit. https://www.fightcancer.org/new-york-city-healthy-neighborhood-campaign.
Any questions, please contact Lucy Miller at [email protected] or 212-492-8404.